"The Bermuda Progressive Labour Party welcomes the news that the OBA has joined the PLP in acknowledging the significance of home sharing and vacation rentals and is moving forward to formally recognise the opportunities available for Bermudians," according to Shadow Minister of Tourism Jamahl Simmons.
MP Simmons said, "Expansion of both vacation rentals and home sharing is good for Bermuda and good for Bermudians and the PLP sees it as a critical component for the economic empowerment of our people and for growing and diversifying our local accommodation offerings. This is precisely the reason why the PLP is holding a town hall meeting tomorrow evening to further educate Bermudians on this subject.
"We believe that a proper regulatory and fair approach towards this new product offering is required, but not at the expense of innovation and progress. Too often in Bermuda, innovation and progress has been overly regulated or overly taxed.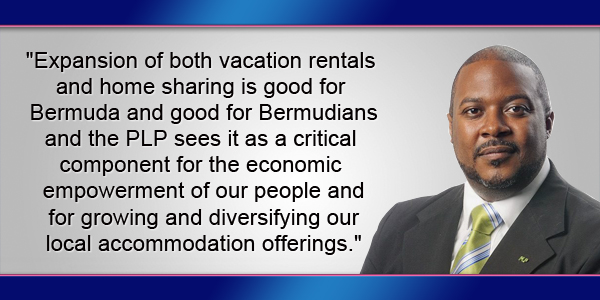 "In an environment in which it is already costly to do business and where the cost of accommodations is perceived as a disincentive among a significant portion of our target market, we must be mindful that we do not strangle this opportunity in the cradle.
"Hotels currently receive many concessions while vacation rentals do not. Thus any new regulations or new taxes on this industry in its infancy cannot be considered as truly levelling the playing field without greater thought and examination on the best path forward.
"We look forward to hearing more details from the government.
"For any Bermudian interested in learning more about the opportunities for vacation rentals and relevant online platforms such as Airbnb and VRBO, we encourage you to join us at our town hall meeting this Thursday night at Prospect Primary School auditorium starting at 7:30pm.
"There, you will have the opportunity to hear from the BTA and local experts already participating in and benefiting from this exciting aspect of our tourism economy."
Read More About