The work taking place at Horseshoe Bay is 21% complete as of February 15th, Public Works Minister Craig Cannonier said, with the Minister replying to Parliamentary Questions from Shadow Minister of Public Works Dennis Lister
The work at Horseshoe Bay Beach is scheduled to include the construction of a new timber pedestrian boardwalk; the repositioning of existing asphalt roadway; new bus, shuttle/mini-bus & taxi drop-off zones and car & bike parking; the removal of invasive species of plants & trees and more.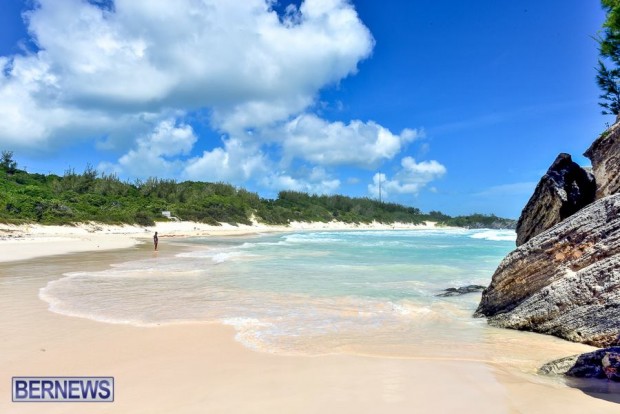 The Parliamentary Question said, "Would the Honourable Minister please update this Honourable House as to the progress of the development work that is taking place at Horseshoe Bay?"
The Minister's reply said, "As of Thursday February 15th, the project is 21% complete and ahead of schedule – noting the following tasks that have been completed:
Gate, Fencing and construction signs erected. MPW has placed detour signs, public notices were sent out to the Public, and BTA via Newspaper & Government portal website
The existing plants between the existing two parking lots have been relocated to a storage facility to be cared for until replanting
5 feet of the rock cliff along the northern side of roadway has been excavated to adjust the roadway
The existing asphalt and sidewalk have been removed from the bottom parking area and the lower excavation is near completion.
All the new precast kerbs have been placed along the new southern side of the roadway
The construction of the seating wall next to the pedestrian beach access has commenced, and all blockwork has been completed
Locations for view corridor have been reviewed and adjusted. Upper viewing station will become the larger of the two. Vegetation has been cleared to provide astonishing beach views.
Design for adding a potable water line from South Road all the way down to the beach building tank has been approved and incorporated into the construction schedule
"Tasks scheduled for this week are:
Site is currently being regraded to raise lower parking lot area, and lower upper parking lot area to the elevation at the hotel gate driveway
Swales along southern side roadway are being constructed
Completing the construction of the seat wall
Start construction on Catch basins
Read More About