[Updated] A trip in January 2018 by Minister of The Cabinet Office with Responsibility for Government Reform Lovita Foggo to Antigua and Barbuda cost $4,607.58, according to a recent listing on the Government's travel webpage.
The trip duration was listed as from January 20, 2018 to January 22, 2018 [see update], and the web page listing said, "Towards 21st Century Government in the Caribbean."
Expenses
Air Travel $1,224.60
Accommodation $3,331.96
Meals $51.02
Total costs $4,607.58
Update:5.22pm: Following our report, the Government's travel website was subsequently amended to change the dates from their original listing of Jan 20 – Jan 22, to Jan 14 – 22.
The screenshot of the original posting on the Government's website is below, provided to clarify that Bernews cited the Government correctly when we posted this story!

Closer view of the original post on Govt website with dates circled below.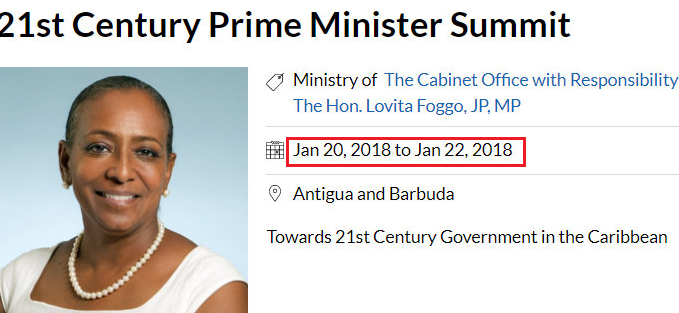 Read More About
Category: All