[Written by Talbot Wilson]
The 2019 Marion Bermuda Race starts June 14. More than 90 days to go seems like a lot of time to get all of your preparations done; but when that last week comes, every skipper and every crew member wants more time to finish the last minute details.
Now is the time to slip your mooring and enter this historic, "Race to the Rock". Do it at MarionBermuda.com
The first date to remember, that famous April 15, takes on a new meaning this year for Bermuda racers. That's the day when the entry discount expires. Until that date entry is $950 per yacht and skipper plus $50 for each additional crew member. After April 15, the yacht/skipper fee goes up some 15% to $1100.
As of Monday, there were 46 confirmed entries. Marketing Chair Ray Cullum of Marion says there are several more entries in the pipeline. Could that be you?
"We expect 50 or more boats on the line in June," Cullum said. "One boat we know of that hasn't entered yet, but we know she's coming, is the 'Spirit of Bermuda' in the Classic Yacht Division. She will match up against the Tabor Academy training vessel 'Tabor Boy' and for the first time have some competition in that division."
For 2019, 'Selkie', will be back to defend her 2017 titles. Chip Bradish's 1988 Morris Ocean 32.5 footer from Boston was the overall corrected time winner of Class D and the entire 40th Anniversary 2017 Marion Bermuda Race. She was the smallest boat in the race and was sailed using only celestial navigation winning the Beverly Yacht Club Polaris Trophy. Photo by SpectrumPhoto/Fran Grenon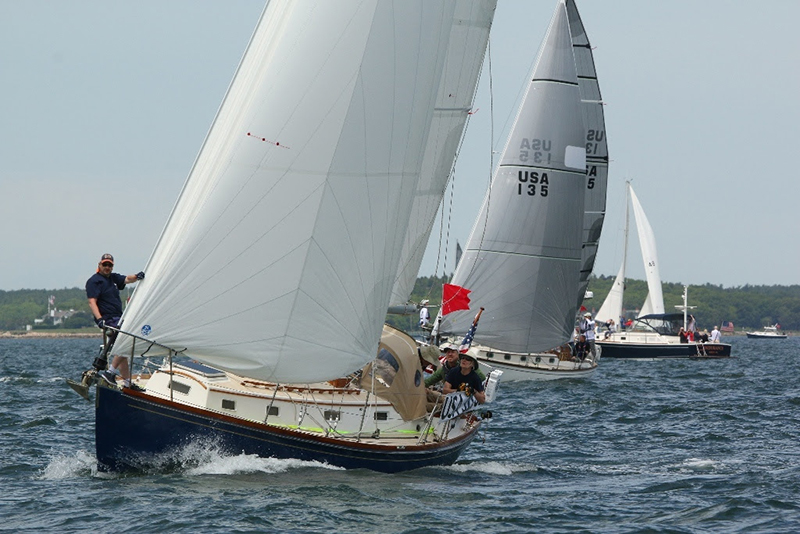 The Marion Bermuda Race offers a very strong Celestial Navigation incentive and some nice prizes for that division. Cullum pointed out that 18 of the current entries will be in the Celestial bunch. That's more than double the star-steering entries in 2017. "My Dixon 44 'Frolic' will be sail Celestial again," said Cullum. "Sailing by the stars adds a classic nautical challenge to our race, one no other offshore race offers."
Ron Wisner, a celestial instructor and skipper of 'Hotspur II', wrote this about celestial Navigation— "In the spirit of a true Corinthian event for ocean sailors, the Marion Bermuda Race is the only race that has a celestial navigation class."
"If you have ever thought about one challenge that you have not engaged as a sailor, one skill above all others that makes you a real salt, you know in your heart what it is. Celestial navigation is a skill that gets to the very meaning of the term "sailor". It is like knowing how to drive a stick shift."
The 2017 race was won by the Class D yacht 'Selkie', a Morris 32.5 skippered by Chip Bradish. 'Selkie' had elected to use celestial navigation giving her a 3% handicap time bonus over the GPS-navigated yachts in the race.  'Selkie' won Class D, short-handed, celestial, and of course, overall. 'Selkie' will be back to defend her title this year.
In 2017, the 40th anniversary and the 21st running of the biennial Marion Bermuda Race went down as a light air battle to the finish. With the Bermuda high shutting down the breeze about 100 miles from the 'rock' and the line off of St. David's Lighthouse in Bermuda, racing was a test of patience for the Class D boats which ultimately swept all the overall podium places.
'Jambi', [50015] a new Hinckley Bermuda 50 skippered by John Levinson crossed the finish line off St. David's Lighthouse at 12:47:00 ADT to take line honors in the 40th Anniversary Marion Bermuda Race. 'Jambi' had an unofficial elapsed time of 4 days 22 hours 52 minutes 11 seconds. Based on her starting time of 12:55 EDT on June 9, that is 118 hours 52 minutes and 11 Seconds. "Jambi' was last in the Founders Division on corrected time. Photo by Talbot Wilson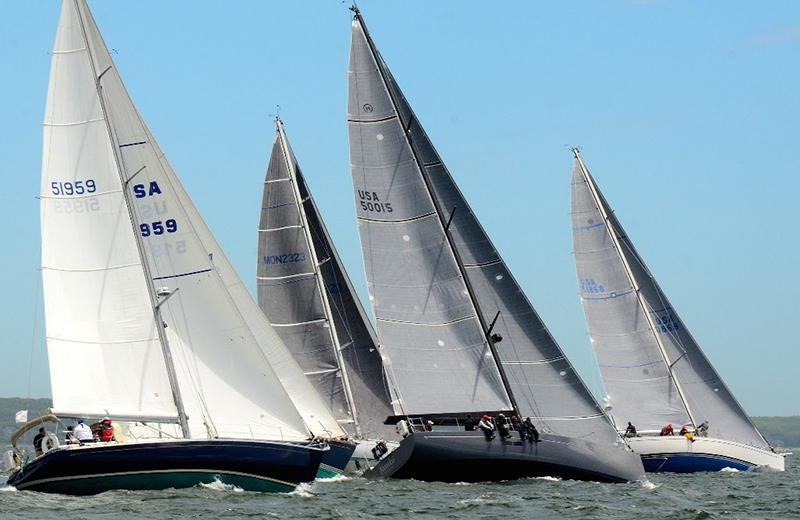 Special Trophy Races
There are races for several special trophy within the Marion Bermuda Race.  Go to the website for photos and descriptions of the trophies and the competition for them.
The R&W Rope Rigging Solutions Team Trophy is offered for established Yacht Clubs or Sailing organizations that form a team of three member yachts. The team whose three yachts have the lowest corrected time total will be the winner.
Yachts sailing with a crew of two, a crew of three or four or an all-female crew of any number may compete in the double-handed, short-handed, and all-female competitions respectively. Prizes are the Double-Handed Trophy, the short-handed L. Bryon Kingery, Jr. Memorial Trophy and the Commodore Faith Paulsen Trophy for the ladies.
A "family" yacht racing for the Beverly Family Trophy is one with a crew of five or more with all or all-but-one being members of a single household or a single family may race for the family prize. Persons related to a common grandparent and spouses of these "family", too.
The Offshore Youth Challenge Trophy encourages youth participation. A "youth" yacht is one with at least 4four youths aboard with at least 66% of the crew qualified as youths. A youth sailor must be 16 years of age or older but not more than 23 years old by June 8, 2017. One or more adults at least 23 years old by June 8, 2017 must be onboard.
The Beverly Yacht Club Polaris Trophy is a prize for stargazers. If a yacht has elected to be celestially navigated, she will receive a 3% favorable adjustment to her ORR rating.

Read More About