[Written by Dale Butler]
There is a new band in town that has an extensive jazz repertoire highlighting many of the island's top professional musicians. Led by Berkelee School of Music graduate Miles Manders on saxophone, the band members are veterans of music schools and have a history that is so long that it finally comes together in their own versions of Summertime, All Blues, and Cool Joe, to name but a few.
Their music will excite you and bring back fond memories of Hubies the famous Angle Street Jazz Capital that closed in 2010. But I will go even further to say that Bulldogs, in the heart of the city, can become another showcase extraordinaire that we can be proud of.
This was an opening night that went without a hitch as the first half performance before a small crowd greeted the band enthusiastically. But as the night grew, so did the numbers in attendance until the inevitable intermission. Believe it or not, when veteran bass player Clevie Astwood had to leave to play at another concert close by, this was further evidence of how hungry Bermudians are for the best. He did return.
Clevie Astwood, Dayton Wharton and Raymond George: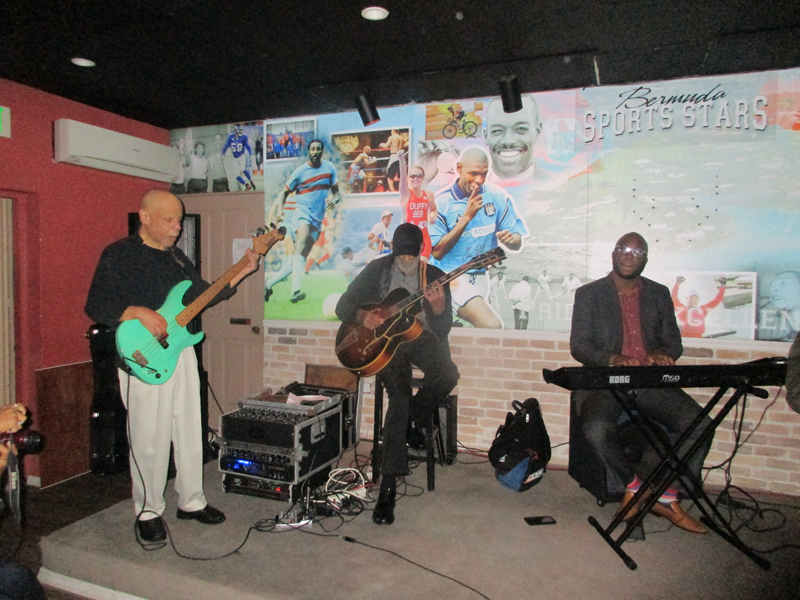 Bulldogs should be commended for bringing such a band as MRD [Miles Raymond & Dayton] to this venue and they need to be supported. Bar service was excellent, the venue was spotless and the area was safe and inviting.
I was so excited that I ran home to write this short review and hoped to beat the bass player back before the second half began.
I have to say, as the island's "Professor of Music," I am biased, but I am honest. What more can you say about Clevie Astwood, the son of the legendary Norman Astwood. Clevie sits on a mountain and nothing gets in the way of his playing as he is a music book filled with numerous skills and techniques. Miles Manders is back at last on saxophone. It must have been frustrating for him not to have a home but now he is taking the lead and showing us how blessed this island is to have such virtuosos. Miles treated each song like it was his own and allowed each member to solo to show off their skills.
You simply can't go wrong with pianist and organist Raymond George, who gave so many music lessons tonight that his students would have been dumbfounded. Raymond is best known in the church but he allowed his jazz side to take over tonight to make the band sound like an orchestra. Then there is the legendary Dayton Wharton, who, like Miles, was a regular at Hubies. As a composer, Dayton has such an extensive repertoire of his own that I won't be surprised if they give him an opportunity to bring some originals out of the box so that he can shine even more on that magic guitar that even the legendary USA composer Wes Montgomery would be proud to hear.
Stefan Furbert makes the set complete on drums and is by far one of the most talented drummers on the island who understands jazz and can really wake up the dead when he wants to.
If MRD continues at this level, they will soon be talking about participating in the famous and legendary Havana Jazz Festival which is seen as the best in the world and not easy to be accepted. But it can be done with their skills as indeed The Unit led the way in 2009 and Giant Steps in 2013.
I commend the band and hope that this luminous start will not burn out. To prevent it, not only jazz lovers should attend Bulldogs but anyone who relishes good music with Bermudians who time and time again prove that they are some of the best in the world. Who knows, a Bermuda Music Festival showcase performance might be possible.
- Dale Butler is the author of Music on the Rock, documentaries and other books

Read More About
Category: All, Entertainment, Music, News