"We're here to compete with the elite, and show them that we deserve to be here just as much as them, even though we're very small."
This is from Bermudian footballer Zeiko Lewis, who was speaking after Bermuda made its debut in the Concacaf Gold Cup, where they were defeated by Haiti who recorded a 2-1 victory, with Bermuda captain Dante Leverock scoring the first ever Gold Cup goal for the island.
Zeiko Lewis, who plays professionally in the United States for the Charleston Battery team, echoed the sentiments of his coach and captain, saying that the team played better in the first half than the second.
Mr Lewis said, "It was a good performance in the first half. I think we got a little bit flat in the second half and I think the goal deflated us a little, but we just got to keep going and going and going.
"This is only the first of three games for us, all the support of my fans, our Bermuda fans that came out, we're happy for them, coming out to support us. Unfortunately, we couldn't get the win, but we had our chances and now we just got to be clinical."
When asked if the game helped the team build confidence, Mr. Lewis said, "Yes, of course. I mean, from the beginning, before we even came in here, we knew we were coming in and not to just be happy we made it in the tournament, but we were here to compete.
"We're here to compete with the elite and show them that we deserve to be here just as much as them. Even though we're very small, we deserve to be there just as much as they do," he added.
This is Bermuda's first ever time qualifying for this tournament, and there has been some apparent underlying sentiment that with the island being so small — the average population of nations competing in this tournament is 34 million – our team was 'just happy to be there', with it appearing some did not expect us to be that competitive, however last night's game demonstrated, as Mr Lewis said, that the team is there to compete, with the Gombey Warriors playing a very competitive match in this top level international tournament.
Chart showing the population comparison of Haiti's 10.9 million vs Bermuda's 65,000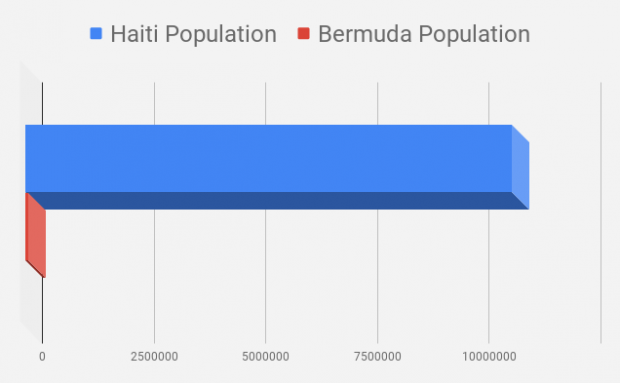 Bermuda's team includes Nahki Wells, Dante Leverock, Jonte Smith, Reggie Lambe, Dale Eve, Oliver Jalen Harvey, Calon Minors, Roger Lee, Kacy Milan Butterfield, Jaylon Bather, Lejaun Simmons, Donte Brangman, Chikosi Basden, Zeiko Lewis, Willie Clemons, Jahquil Hill, Osagi Bascome, Cecoy Robinson, Justin Donawa, Wendell Tre Ming, Liam Evans, Marco Warren, and Quinaceo Hunt.
The Gombey Warriors will next take on Costa Rica on June 20th in Dallas, and then match up against Nicaragua on June 24th in New Jersey, and in an effort to provide comprehensive coverage of Bermuda's debut in this highly prestigious regional competition, Bernews has a dedicated reporter traveling with the team in order to bring all the latest action and insights, with the special coverage thanks to the support of Butterfield & Vallis, One Communications, and Bermuda Security Group.
If you want additional coverage, please feel free to join Bernews new Sports Facebook group, where our traveling reporter is providing daily updates and some 'behind the scenes' coverage.

Read More About