Former WBA Middleweight world boxing champion Teresa Perozzi and three time fittest female Crossfit competitor in Bermuda and author Agathe Holowatinc announced their company's upcoming nutrition speaking series at Beyond Fitness Bermuda.
This summer the duo announced that they joined forces to start up a health and wellness company, and now they invite everyone to come out to their Fuelled Nutrition Speaking Series that starts next week.
"Beyond Fitness Bermuda was voted Bermuda's Best Health and Fitness Club 2018, and is a great, supportive, inclusive fitness environment that allows members to achieve their goals regardless of fitness level, experience and work/life demands. There, Agathe will lead 45-minute sessions every Monday evening at 6:30pm, touching on various hot topics. You do not need to be a member to attend," a spokesperson said.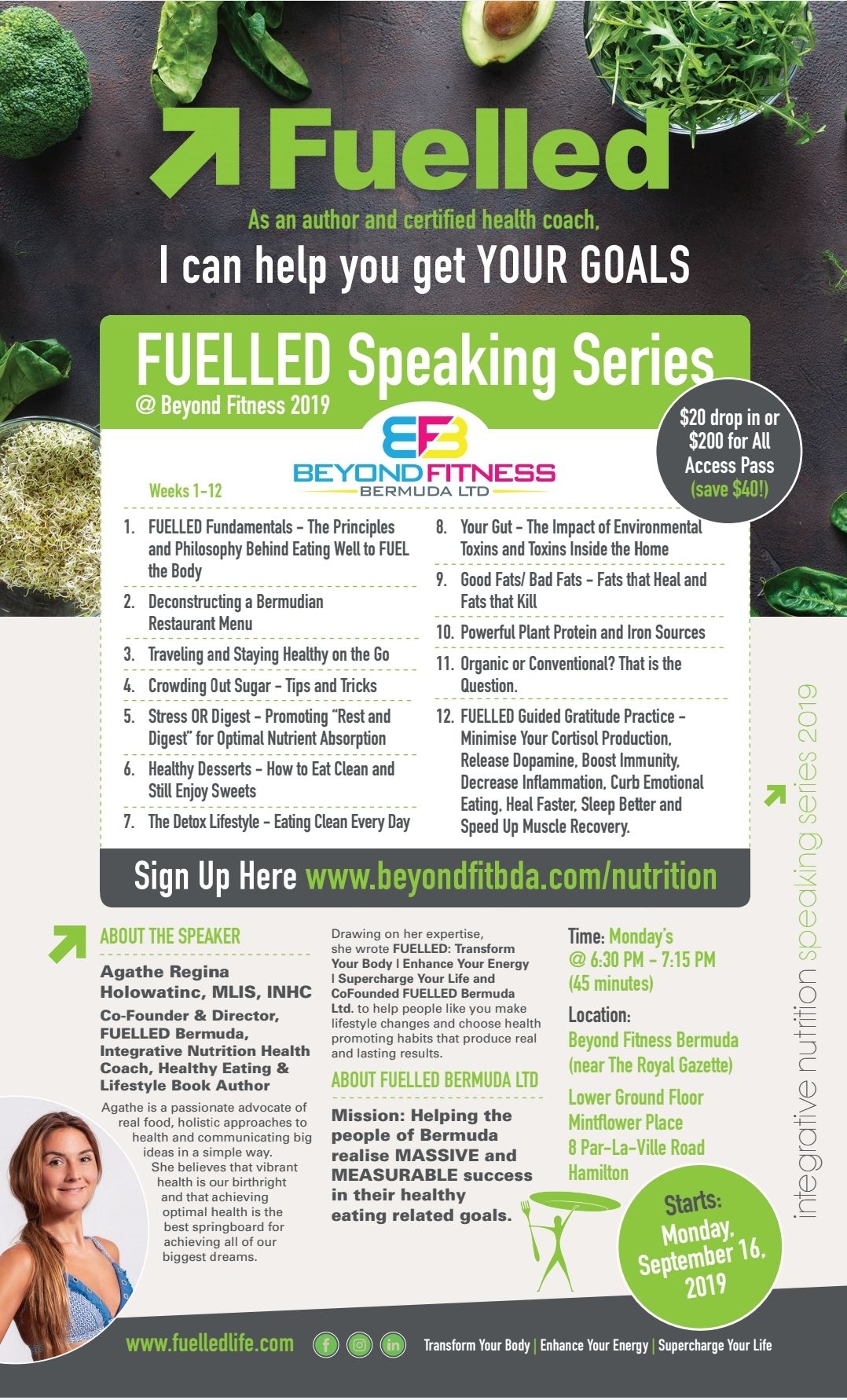 "Take a 12 week journey with your nutrition coach. We'll take a hands-on approach in educating you about how to achieve better cellular health through optimal, nutrient-dense eating. In this 12 week Fuelled Integrative Health Speaking Series you'll be taught the ins and outs of great nutrition.
"In each session, you'll be informed and guided on how to make simple, small changes that transform your life. Each class will leave you feeling inspired and motivated, so not only will you have the knowledge to progress on your personal goals but you will renew your outlook on food and health, revitalize your energy and even leave believing that healthy doesn't have to be hard, with recipes that prove it."
The Hot Nutrition Topics include:
Sept 16th: Fuelled Fundamentals – The Principles and Philosophy Behind Eating Well to fuel the Body
Sept 23rd: Deconstructing a Bermudian Restaurant Menu
Sept 30th: Travelling and Staying Healthy on the Go
Oct 7th: Crowding Out Sugar – Tips & Tricks
Oct 14th: Stress or Digest – Promoting "Rest and Digest" for Optimal Nutrient Absorption
Oct 21st: Healthy Desserts – How to Eat Clean and Still Enjoy Sweets
Oct 28th: The Detox Lifestyle – Eating Clean Every Day
Nov 4th: Your Gut and the Impact of Environmental Toxins and Toxins Inside the Home
Nov 18th: Good Fats/Bad Fats – Fats that Heal and Fats that Kill
Nov 25th: Powerful Plant Protein and Iron Sources
Dec 2nd: Organic or Conventional? That is the Question
Dec 9th: Fuelled Guided Gratitude Practice – Minimize Your Cortisol Production, Release Dopamine, Boost Immunity, Decrease Inflammation, Curb Emotional Eating, Heal Faster, Sleep Better and Speed Up Muscle Recovery
Starts: Monday, September 16, 2019
Time: Mondays from 6:30pm – 7:15pm [45 minutes]
Cost: Drop in for $20, or get an 'All Access Pass' to the entire series for $200.
There is a maximum of 40 people per session, and you can register here.
Location: Beyond Fitness Bermuda
Lower Ground Floor
Mintflower Place
8 Par-La-Ville Rd.
Ms Holowatinc said, "In life it's either 'one day' or 'Day One.' This series of nutrition and health talks are affordable and continue over a consistent 12-week period. It's a great way to invest in yourself immediately and it's easier than reading a book and more fun because you get to engage with and be surrounded by people with similar interests and goals. Come out and get started on your health, weight, food and nutrition goals ASAP. Monday, September 16 is just a week away. Make that 'Day One'."
Ms Perozzi said: "$200 for 3 months of information – or $20 drop in – that's a great deal! After summer some of us can use a detox, and this is a great way to jumpstart getting back on track this Fall. Agathe is passionate about all of the topics and she'll keep you motivated and into it. In this series of nutrition & health talks, she will lead 45 minute sessions that educate everyone on hot nutrition topics, debunk myths, help you fuel your body, guide you towards the best nutrition solutions for optimal health and motivate you to stay on track through it all. Plus, you can ask her questions at the end."

Read More About
Category: All