In the spirit of the holiday season, East End Asphalt heavy equipment operator Clevaughn Darrell helped the Bermuda Motocross Club [BMC] maintain its Southside Motocross Track for the 2019-2020 season.
Mr Darrell, who has been a heavy equipment operator at East End Asphalt for just over a year, heeded the call to help BMC launch its season. The track requires significant grading and maintenance work in order to ensure rider and spectator safety.
Mr Darrell knew his skills as a heavy equipment operator at East End Asphalt and his passion for the sport of motocross made him uniquely qualified to assist in the redesign and resurface the track for this season's opener.
East End Asphalt agreed to donate time and equipment to support the BMC.
Mr Darrell, who owns Icon Sound System, is normally booked on weekends with event sound production, but was inspired to sacrifice three full Saturdays to work on preparing the track. He worked from early morning until dusk over three consecutive weekends and was guided by some of the riders who ensured that the track met their design standard
Clevaughn Darrell, of East End Asphalt, grades the Southside Motocross track preparing it for race season.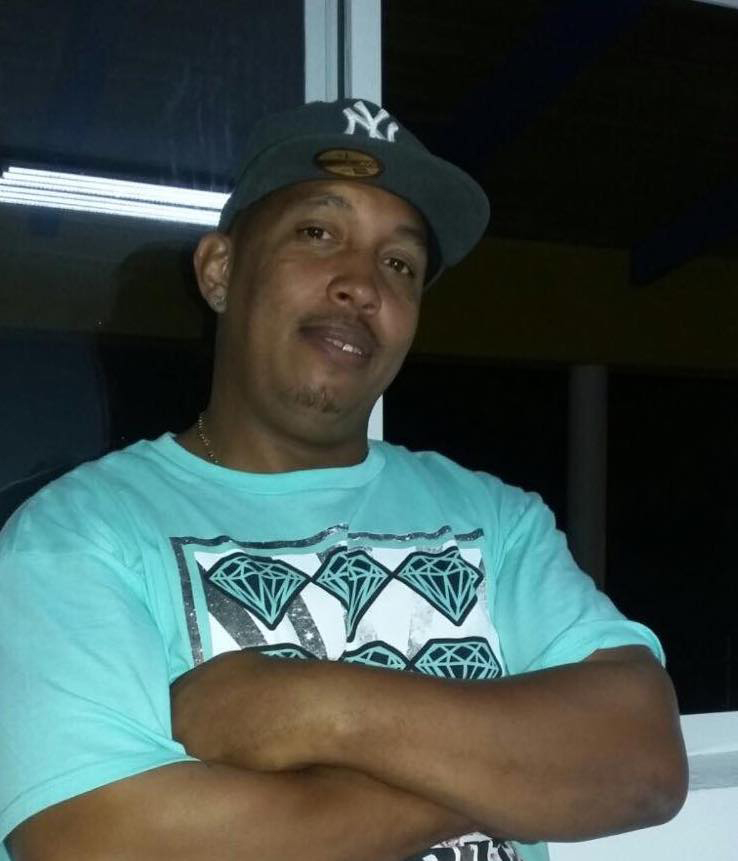 When asked his motivation, Mr Darrell shared, "In the nineties, I supported top motocross competitor Corey Smith, during the heyday of Bermuda Motocross at the Coney Island track. It was the era of Umoja Spencer, Scrooge Edness, Aaron Pace, and my good friend the late Corey Smith.
"The races would draw major crowds and was a great social outlet. I supported Corey because of his passion for the sport and he had a God-given talent. His presence is a huge miss and I did this in honour of Corey and to do my small part in supporting motocross in Bermuda. I'd like to see the sport grow and I invite other heavy equipment operators and companies like mine to donate time and equipment where possible."
East End Asphalt General Manager, Travis Gilbert, said, "As a company we are proud to support the interests of our staff where we can, and send our congratulations to the dedicated BMC riders, club members and executive who have ensured the success of the sport.
"Our entire company salutes the contributions and neighbourly spirit of our employees especially as the holiday season and the exciting Boxing and New Year's Day Motocross competition approaches. We join the call for our industry peers to be inspired by Mr. Darrell and 'lend a hand'. "
Travis Gilbert, General Manager of East End Asphalt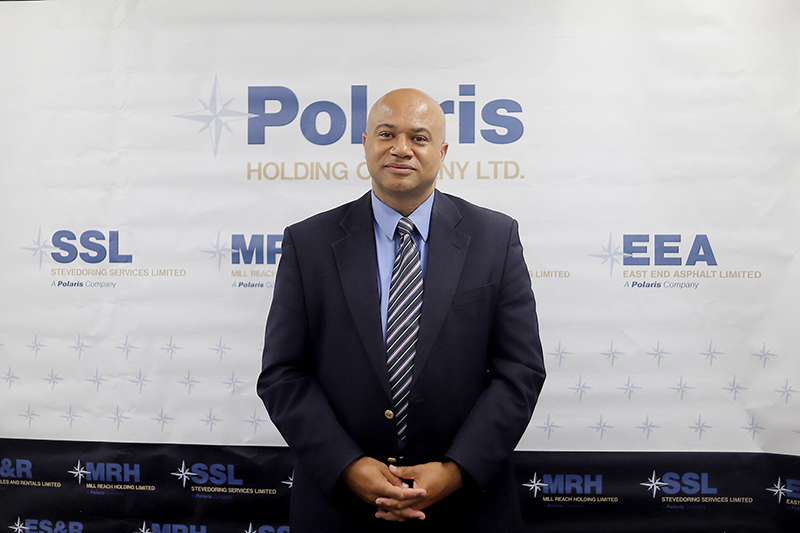 Arlene Simmons, President of the BMC, in recognizing Mr Darrell's contribution identified key areas of ongoing need for the club, said: "We thank Clevaughn and East End Asphalt for their support. The Southside motocross track use bobcats, payloaders, excavators, tillers and tons of water to prepare and maintain our track and facility on a weekly basis.
"We conduct track maintenance on race day weekends and members of the track committee also water and till through the week to keep the soil soft for practice sessions. Without industrial equipment and operators, our team will do their best to maintain the track by hand, so the support of industrial companies and heavy equipment operators is welcomed."
Bermuda Motocross Club relies on volunteers to build and maintain its track and welcomes support from the community. The track shows the rebuilding stage before the season opener.
"We invite Bermuda to support our riders and the sport. Motocross has helped develop character, discipline, dexterity and strategic thinking in our young people. What's more, it builds character and has the potential to provide our young people an opportunity to represent their island on the international stage."
The Bermuda Motocross Club has about twenty youth riders from ages five to fourteen years, all participating in pee-wee class, 50cc, 65cc, 85cc with select thirteen and fourteen-year-olds riding in the 250cc novice class.
They have a "mini-track" that is used for training BMC "littles", which has not been rebuilt and maintained for lack of equipment. There are twenty-two senior riders in varying classes – novice, over-thirties and expert.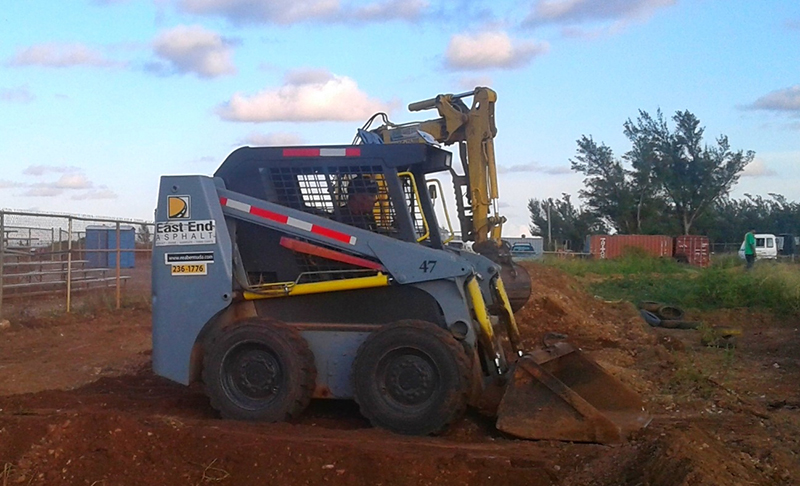 The East End Asphalt GM emphasized, "What's significant about this organization from a community standpoint, is its impact across generations.
"I have been impressed by the range of ages of both participants and supporters. We hope that Bermuda celebrates this unique sporting community through its attendance at this season's events."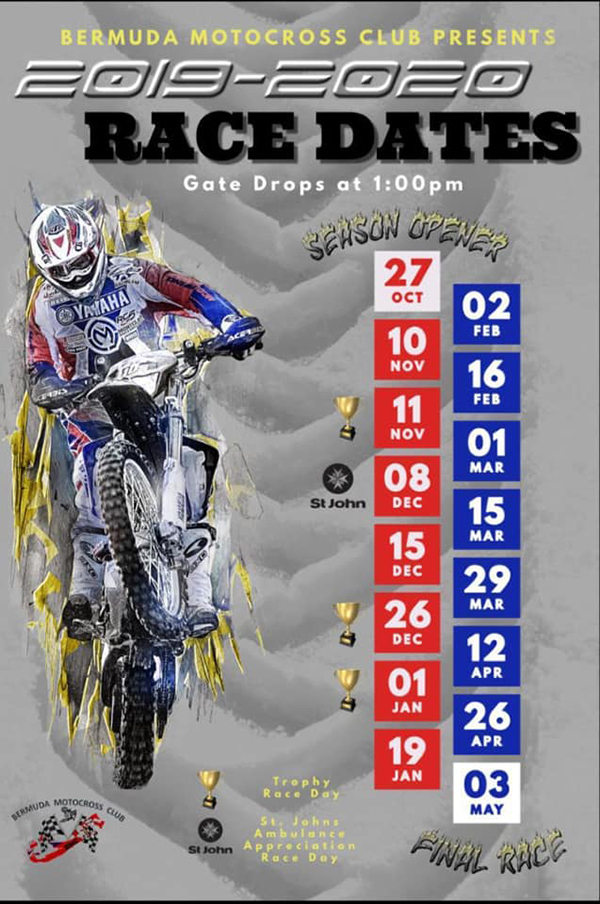 The Bermuda Motocross Club will be hosting part two and three of the BMC Trophy Series at the Southside Motocross track on Boxing Day and New Year's Day. Gates open at 12:00 pm, adult $10.00, children $5.00 and entry into the pit $5.00.

Read More About