YouthVision Promotions is thanking the participants, supporters and sponsors involved with their Middle School March on Monday [Dec 16].
Organiser Desmond Crockwell said, "On Monday, December 16, YouthVision Promotions organized a 'Men Are Needed Middle School March'to promote the importance of positive male role models and father figures in young people's lives. Approximately 100 boys from Whitney Institute Middle School were joined by male staff members and approximately 100 other men of the community.
"The march started at Dellwood Middle School and continued along Angle Street, Court Street and Victoria Street and finished at Victoria Park. Along the route, students handed out approximately 100 Visionz Anti-Violence magazines to onlookers and spectators, who were encouraged, engaged and excited by the children's positive collective demonstration.
"Once the crowd reached Victoria Park, they were treated with powerful and impactful motivational speeches from Break the Silence organizer Antonio Belvedere, who recalled the names of the young men lost to gun violence in the last decade. The next speaker was former school drama teacher Rajai Denbrook, who recited a poem on the importance of being a father.
"The next speaker was anti-gang coordinator Pastor Leroy Bean, who emphasized the importance of a father's love. Following Pastor Bean was Minister of National Security Wayne Caines, who reminded the crowd of the drop in murder/gun/gang related statistics and the importance of keeping on the right track to avoid the wrong consequences."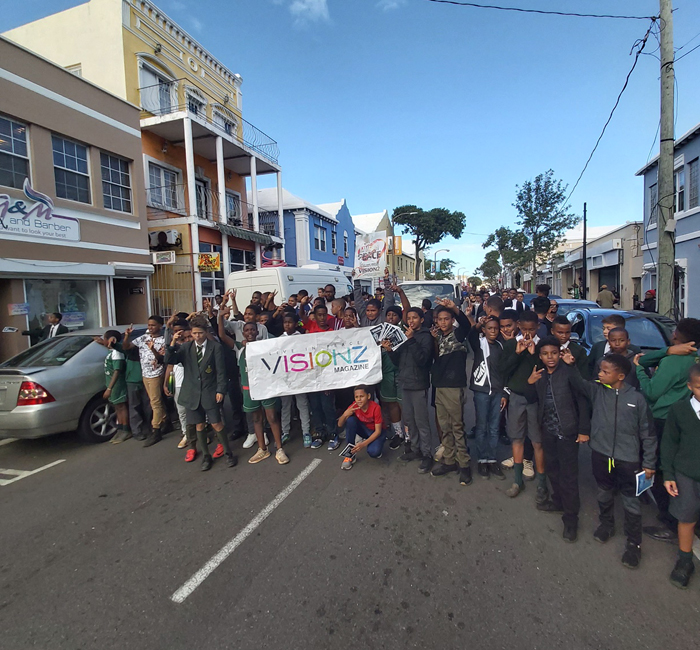 "Next in line was veteran school councilor Anthony Peets, who spoke on the strength of the family structure and the importance of the role of the father.
"After Mr. Peets was former drug addict and motivational speaker Ronald Butterfield, who spoke on his personal experiences of growing up without a father and the downward spiral that he found himself in hanging around and following the wrong people.
"The final speaker was YouthVision Promotions director and organizer of the march Desmond Crockwell, who thanked those in attendance, and motivated the children in attendance to collectively shout and cheer the phrase "I Can Make A Difference" which ended what was a historic and memorable public demonstration of social responsibility and undeniable unity.
"One thing was obvious, YouthVision Promotions understands and is committed to their mandate to give people a platform to speak, which is something Bermuda needs."
Organiser Desmond Crockwell said, "First, all thanks to God. Next, we wish to thank Colin Ingham, Lynwood Richardson, Whitney Institute, IMPACT Academy, Pastor Leroy Bean, Minister Wayne Caines, Antonio Belvedere, Anthony Peets, Rajai Denbrook, Ronald Butterfield, Paradise Scents, Caesar's Pharmacy, Crawl Hill Esso, Bermuda Community Foundation, Kiwanis Club of St. George's, the Bermuda Fire Service, the Bermuda Police Service, the Corporation of Hamilton, and everyone who offered their verbal, physical support."

Read More About