Legitsu Academy student Andrea Cahill won five of six matches this past weekend at a tournament in Manhattan, winning a gold medal in submission wrestling and a silver medal in Brazilian jiu-jitsu.
A spokesperson said, "Andrea Cahill, a chartered accountant with a busy career and a student at Legitsu Academy, a Brazilian jiu-jitsu gym located at the Old Berkeley School, celebrated success this weekend after winning five out of six matches at a Brazilian jiu-jitsu tournament in Manhattan.
"The tournament was organised by Grappling Industries, a world-renowned Brazilian jiu-jitsu and submission wrestling tournament with over 80 events held annually all over the USA, Canada, Europe and Australia.
"Andrea competed in two disciplines, winning a gold medal in submission wrestling and a silver medal in Brazilian jiu-jitsu after beating most of her opponents with a submission known as an arm bar. Two of the submissions were notably fast, just 16 and 35 seconds into the matches."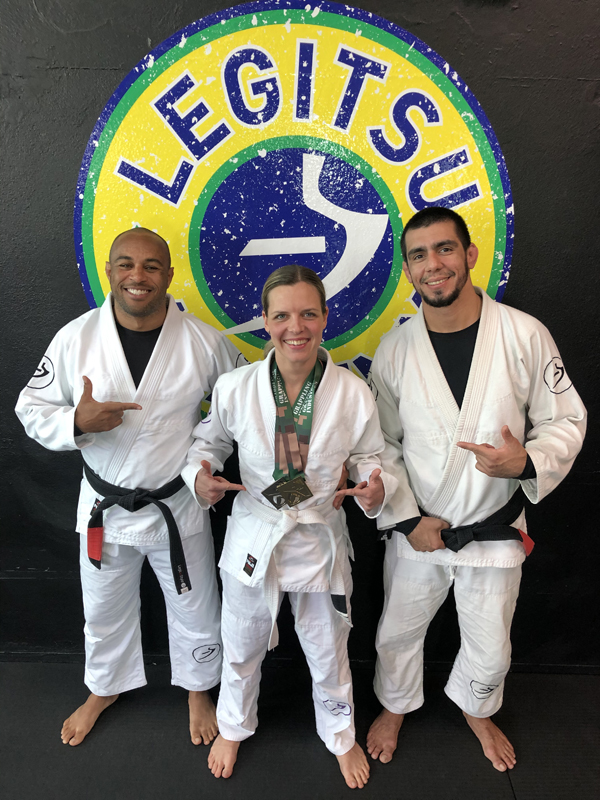 "As the first competitor for the recently established Legitsu Academy, Andrea said she was proud to represent the Bermudian gym owned by Mikko Trott in front of an international crowd."
Ms. Cahill said, "I started training with Mikko about a year ago on my lunch breaks. I knew a little about jiu-jitsu and wanted to give it a go to complement other forms of training I was doing at the time.
"Since the Academy is open all day, it was easy to fit it in my busy schedule. Soon after I started with the sport, I realised that jiu-jitsu was a very useful life skill, being a martial art designed to beat a stronger opponent, so I stopped other forms of training and focused solely on jiu-jitsu.
"When I first joined as a member at Legitsu Academy, I didn't realize how lucky I was to train with Mikko, who has won multiple world titles under the International Brazilian Jiu-Jitsu Federation, and learned the sport directly from the source at Gracie Humaita in Rio de Janeiro, Brazil, which is the first Gracie jiu-jitsu academy ever established; some refer to it as the jiu-jitsu headquarters.
"Mikko's masters Royler and Rolker Gracie are the sons of Helio Gracie, the creator and founder of Gracie jiu-jitsu, also known as Brazilian jiu-jitsu. I feel that under Mikko's supervision, I learned a lot in my first year of training so I decided to test myself against international competitors in a BJJ tournament in New York. It was a great experience and I was proud to bring home some medals."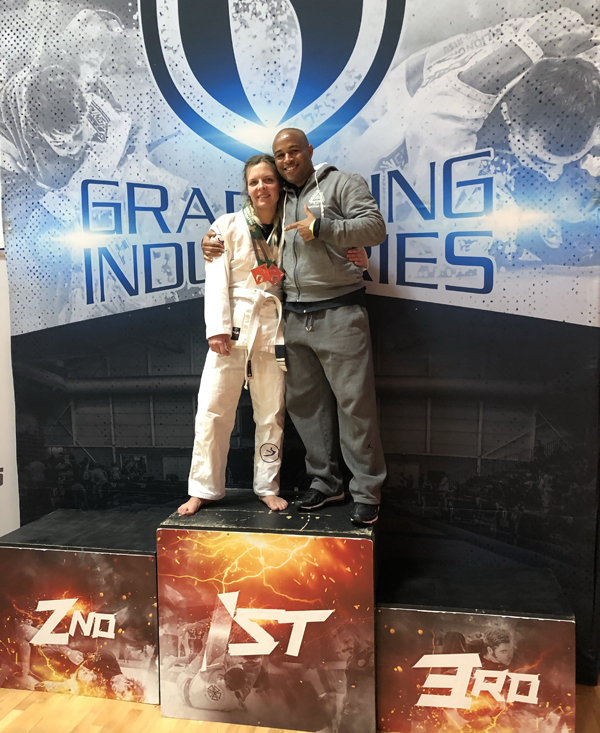 Mikko Trott said, "To my knowledge, this is the first gold medal brought home to Bermuda from an international Brazilian jiu-jitsu tournament by a female competitor. I hope that Andrea's success, being a mom to a 7-year-old child with a busy full-time job, will inspire others to come and train with us.
"We are open six days a week and have classes for children, women and men, regardless of age or ability.
"The academy is run by two full-time Gracie Black Belt Professors, Mikko Trott and Roberto Carneiro. You can find us on social media platforms such as Facebook and Instagram under Legitsu Academy, or contact us at Legitsuacademy@yahoo.com or 441-703-4444."

Read More About