Warwick Academy recently announced their new student leaders for 2020-21.
A spokesperson said, "This past week Warwick Academy rolled out their new student leaders for 2020-21. In the normal physical school setting the 2019-20 student leaders would be going on study leave and the new leaders would take up their roles. School is carrying on much the same as always just in a remote setting and so the leaders are taking up the responsibilities and it is bringing out even more creativity.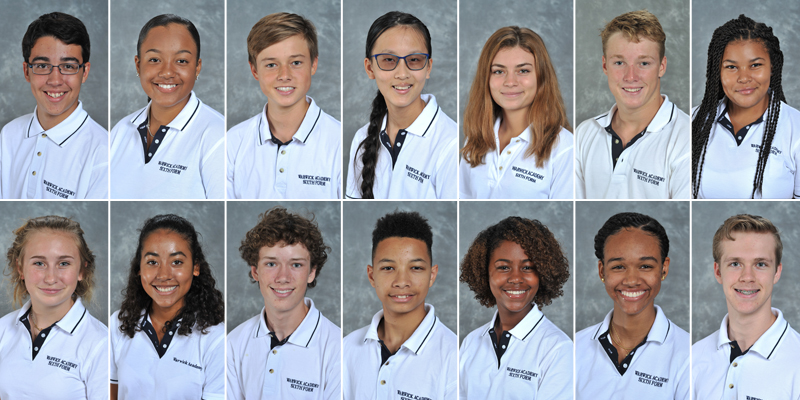 The new leaders are:
Head Boy – Noah da Silva
Head Girl – McKenzie-Kohl Tuckett
Deputies – An Mei Daniels / Grace Arrowsmith / Riley Jackson / Brian Desmond / Liam Flannery / Alexander Miller
Student Council President – Quelasia Rogers-Bailey
Student council Vice President – Athena Marsh
Morgan House Captains – Aisling Harris / Kyaida Lanthier
Patton House Captains – Riley Jackson & Alexander Miller [Deputy with responsibility for Patton]
Rhodes House Captain – Logan Thompson / Kree Musson
Robertson House Captain – Zori Seymour / Zayla Bolin
Sports Leaders – G'zai Dyer / Amber Simons
Marketing and Development Leader – Mackenzie James
Drama Leader – Elena Menendez-Sanchez
Music Leader – Sam Pettit
Human Rights Leader – Marley Todd
"It is a rigorous process to apply for the leadership positions and be selected. The concept for all the core student leader positions, Heads, Deputies, Student Council President, is announced to the Y12 year group at the end of term one. At this time current position holders are available to talk about the posts and answer questions.
"The students then have over the Christmas break to put together a letter of application which is due in at the start of Term two. The list of applicants is circulated to staff for feedback on the students leadership skills they have demonstrated and if it is felt that they are able to keep up with work load and take on extra responsibility.
"This year there were over 20 applicants and all of them were then interviewed by the Principal, Head of Secondary and Head of Sixth Form. It is about a 20 minute interview and then they were put a short list for approval by the Senior Management Team. This is an excellent way for students to have practice interviewing skills and learn to sell themselves. The student leaders are always announced in a full assembly just before the Easter holiday break. Unfortunately this year that was not possible and so they have been rolled out through emails, virtual home room time and through social media.
"The Students leaders are already holding their weekly meetings in Microsoft Teams and they are planning a creative way to connect to the students in both Primary and Secondary, organizing various virtual fun activities and competitions amongst the year groups . It is very much school as usual and the students are adapting to the remote way of communicating. Leadership is being shown at every level by being resilient, taking control of the challenges in front of them and overcoming the obstacles in a creative way.
"Warwick Academy is very proud of this wonderful group of young leaders and is looking forward to watching them lead the student body through the challenges today and when regular school life resumes."

Read More About
Category: All