The Atlantic hurricane season officially starts today [June 1] and runs through November 30, and while today may be the 'official' start, two storms already made an early appearance in May.
Tropical Storm Arthur was the first named Atlantic storm of the year, while the second named storm was Tropical Storm Bertha; fortunately neither impacted the island.
The National Oceanic & Atmospheric Administration previously said, "An above-normal 2020 Atlantic hurricane season is expected, according to forecasters with NOAA's Climate Prediction Center, a division of the National Weather Service.
"The outlook predicts a 60% chance of an above-normal season, a 30% chance of a near-normal season and only a 10% chance of a below-normal season. The Atlantic hurricane season runs from June 1 through November 30.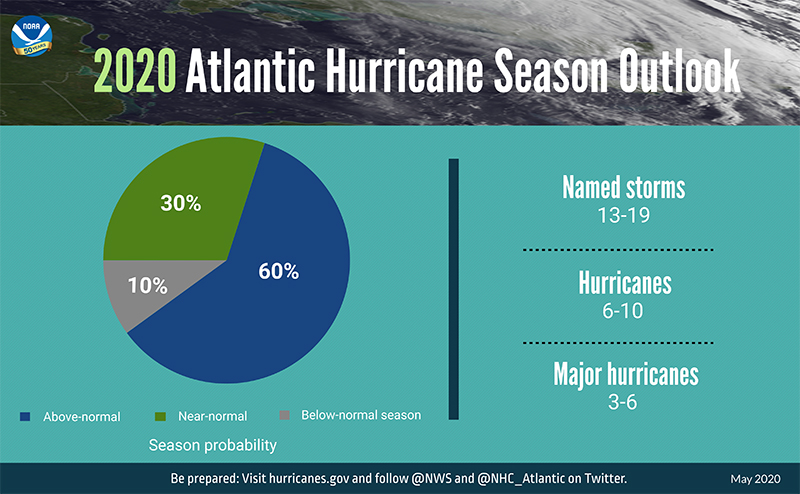 "NOAA's Climate Prediction Center is forecasting a likely range of 13 to 19 named storms [winds of 39 mph or higher], of which 6 to 10 could become hurricanes [winds of 74 mph or higher], including 3 to 6 major hurricanes [category 3, 4 or 5; with winds of 111 mph or higher].
"NOAA provides these ranges with a 70% confidence. An average hurricane season produces 12 named storms, of which 6 become hurricanes, including 3 major hurricanes.
"Also, warmer-than-average sea surface temperatures in the tropical Atlantic Ocean and Caribbean Sea, coupled with reduced vertical wind shear, weaker tropical Atlantic trade winds, and an enhanced west African monsoon all increase the likelihood for an above-normal Atlantic hurricane season. Similar conditions have been producing more active seasons since the current high-activity era began in 1995.
"As with every hurricane season, the need to be prepared is critically important this year. NOAA's outlook is for overall seasonal activity and is not a landfall forecast. "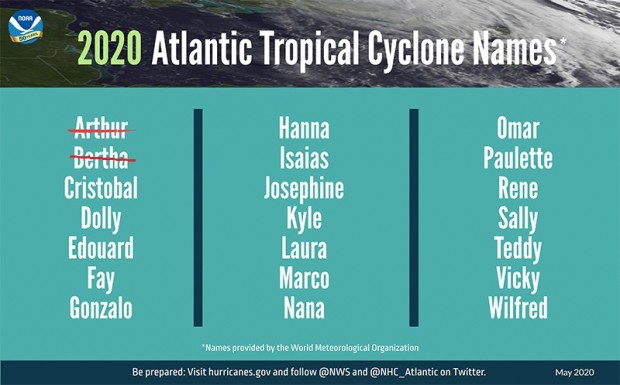 National Security Minister Wayne Caines previously said, "As we mitigate the risks of COVID-19, we are also mindful that next week Monday, June 1st will mark the start of what is expected to be an active storm season. So our attention is now simultaneously focused on managing the storm risks associated with Hurricane Season.
"As I have indicated previously, all steps are being taken to ensure that our island is storm ready and prepared.
"Due to COVID-19, the Emergency Measures Organisation [EMO] has been meeting on a regular basis. Consequently, the 2020 Atlantic Hurricane Season has been a leading part of our discussions. This has proved to be beneficial in our agency coordination and preparation efforts.
"Traversing through an active hurricane season is not new for Bermuda. And each year, we build upon the lessons learned from the previous season."
Read More About