Dr. Edward Harris' book "Principles of Archaeological Stratigraphy" has now been published in Arabic, marking the 11th language the book has been translated into.
In 1973, Dr Harris invented the 'Harris Matrix', which became the subject of his doctoral thesis at University College London. The essence of the thesis was published in 1979 as Principles of Archaeological Stratigraphy, followed by a second edition in 1989, which has since become an industry standard in archaeology.
Unlike many scientific discoveries, the Matrix has stood the test of time for almost 50 years and there are now eleven translations of the book, with a twelfth, Chinese, in the final stages of production.
The cover of the 2020 Arabic edition of Dr. Edward Harris' Principles of Archaeological Stratigraphy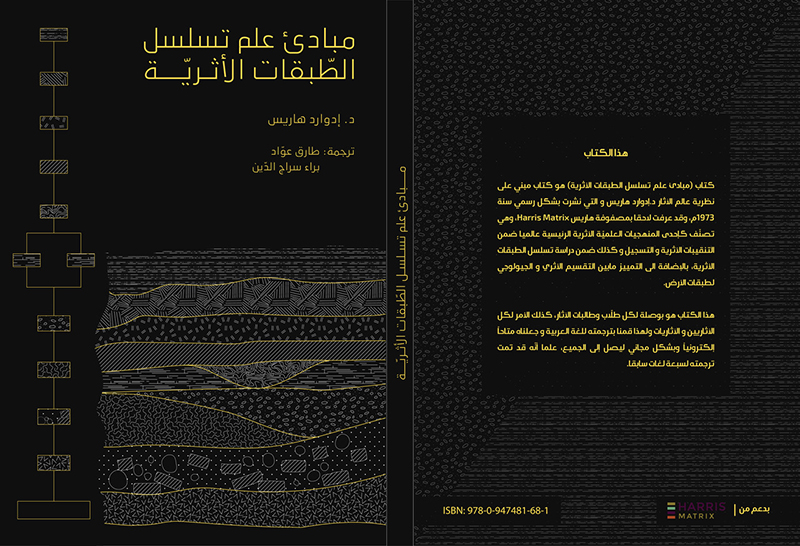 A few months ago, the first Arabic edition of the book appeared, translated by the archaeologist, Tareq Awwad, and professional translator, Baraa Seraj Eddin. The book is available for free downloading, along with seven of the other foreign editions, at www.harrismatrix.com.
There are some 310 million Arabic speakers in the world and combined with English and the translations, Dr. Harris' book is now accessible to some four billion people via the Internet.
The English version and some of the translations have been available for free downloading since 2005, when the original website was designed and maintained by Dr. Wolfgang Neubauer and Klaus Loecker of the University of Vienna.
"It has since been revised to work with new devices, such as smart phones, by '0to5', a company owned by Bermudaphiles, Michelle and Santiago Pujadas. The free access to the books may be considered a contribution of Bermuda to the archaeological world. A companion volume, Practices of Archaeological Stratigraphy, was published in 1993 and is available for free downloading in English," a spokesperson said.
For 37 years, Dr. Harris was the director of what is now the National Museum of Bermuda, retiring from that position in late 2017.

Read More About
Category: All, Entertainment, News