Noting the violent incidents that occur, Raleigh Bermuda said that "our community is in a crisis and we must examine the root causes of society breakdowns and tackle them."
Raleigh Executive Director Dany Pen said, "In 2010, it was reported that there were at least 19 gangs in Bermuda with over 350 members ranging from 12 – 40 years of age. Between 2009-2017, Bermuda recorded 48 murders with another 90 people shot and injured. There have also been stabbings, drug raids, thefts, and a myriad of other offences that are associated with gangs and the crimes that they commit.
"It is now 2020 and we continue to witness violence in our community with gun shootings, stabbings, gang retaliation and murder. Our community is in a crisis and we must examine the root causes of society breakdowns and tackle them. Young people are searching to belong, and in the absence of a structured, positive community, they will gravitate towards a negative one. Raleigh provides that needed safe positive space.
"Raleigh Bermuda specifically targets young Bermudians who are 'at a crossroads' or 'underserved' and may face the 'day to day' risks of gang violence, drugs, alcohol, crime, and abuse in our community.
Raleigh members: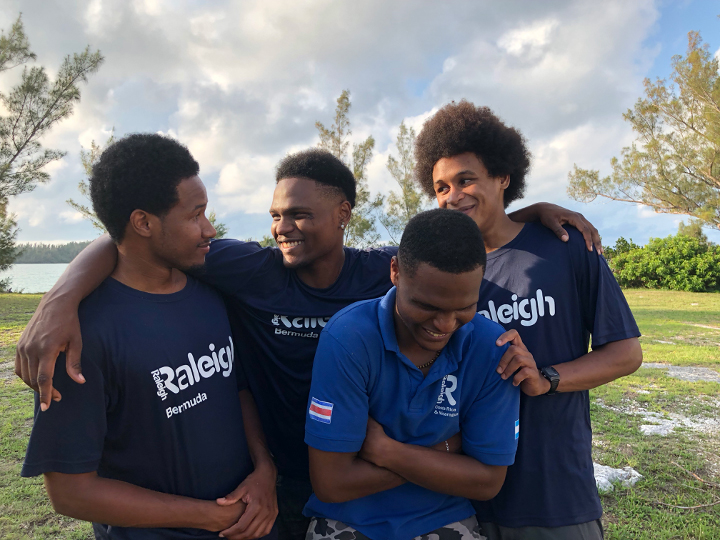 "Raleigh is the only organization on island that works continuous with young people ages 17 – 35 years old [including alumni] by providing them with the survival and life skills to become confident, productive members of our community and to successfully manage the transition to independence and adulthood.
"Raleigh also works closely with the Courts and Probation/Parole Services and the Department of Child and Family Services to provide our young Bermudians one-on-one coaching, wellness support and the opportunity of a life-changing experience in an overseas expedition.
"Over the years the programme has evolved to provide increased and individualized support, but the underlying mission is still the same – create a safe positive space for young Bermudians to be challenged and reach for higher heights. Currently, Raleigh Bermuda has over 172 alumni between the ages of 18-35 years old and we have one of the highest retention rates on island for returning alumni.
"Before Covid-19, we were able to provide our office space to host "social circles" where young people could come together in a safe space to discuss their current struggles and challenges. When Shelter-in-Place came into effect, we immediately saw a huge percentage of our alumni lose employment. The need for food and basic supplies were immediately seen within the first few days of quarantine, especially for our alumni who had young children and/or family members to care for.
"Raleigh Bermuda had to develop an Alumni Relief Program where we re-assessed our budget to see how we could support our young people with food and grocery vouchers. The need more than tripled in the month of June and we saw in one week, 40 people in our family circle who in need of food.
"We also opened our communication line to all our alumni to 24 hours/ 7 days a week to help provide mental and emotional support as well as provide the referral services needed for mental health, drug addiction and domestic abuse. We began offering online meetings on Zoom to continue our "social circles" where alumni could still come together to share their struggles as well as find wellness support through their peers.
Raleigh members: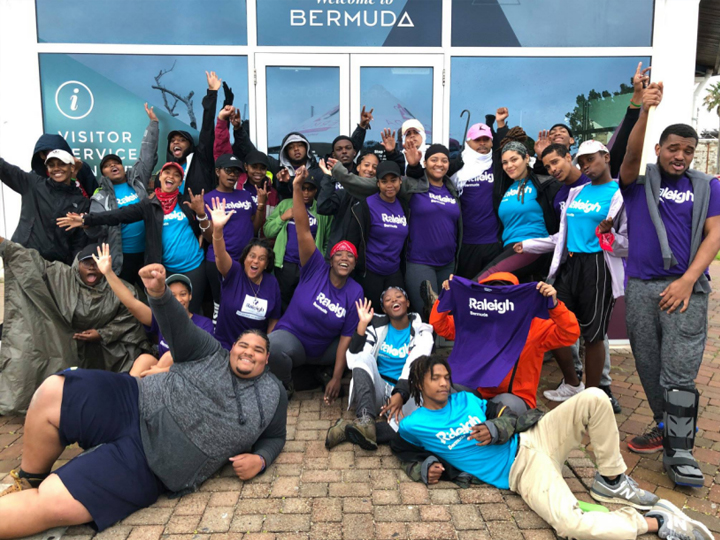 "Raleigh's vision is of a Bermuda where young people work together, regardless of social background and culture; challenged to raise their aspirations, supported to believe in themselves and inspired to be part of a global community active in making their world a better place. This vision was amplified and re-affirmed during quarantine.
"Our young people have definitely stepped up to the front line during Covid-19. We saw many of our Raleigh young people become essential workers overnight, risking their lives on the front lines to help the country move forward. We had some of our Raleigh Alumni who worked in grocery stores, in the hospital and the regiment.
"The Raleigh Family is a very resilient one and during this time of crisis, our young people have stepped up in their leadership, many have spoken out against violence and have intimately shared their deep pain, grief and hurt as witnesses, victims and survivors.
"We were devastated when our own Raleigh Bermuda Brother and Alum, Ndavyah Williams on June 29th was harmed in a serious crash while on voluntary duty with the Bermuda Regiment.
"To ensure the safety and wellness of our young men and women – Raleigh pleads and calls for an end to violence and implores the community to help with providing safe and positive spaces for our young Bermudians; free from violence, harm and criticism. A place where we can help our young people develop themselves, let them find their voice, so that they can become active humanitarians and leaders in our community; who are compassionate, giving and kind.
"Raleigh is a non-profit organization and to continue operating and providing our programmes for our young people, where they can access continuous one-on-one coaching and wellness support, grocery relief and life-skill survival training camps, we are appealing to the community to help. Please make a donation or contribution today by visiting www.raleigh.bm or Ptix here."
Read More About