The  Spirit of Bermuda Charity Rally sailing race continues, with vessels racing from the U.S. East Coast to Bermuda.
An update from the organisers said, "Having punched through the Gulf Stream early yesterday but now facing light air and headwinds, the fleet on both legs of the Spirit of Bermuda Charity Rally have made slow progress in their second 24 hours of the race, organized by the East End Mini Yacht Club [EEMYC] and the Sailing Yacht Research Foundation [SYRF].
"At 1500 EDT today the two entries on the West leg – the Swan 59 Icebear, skippered by Sean Westoby and the Swan 48 Isbjorn skippered by Vincent Matiola – have managed only 102 and 97 miles, respectively, towards Bermuda since this time yesterday. The two are sailing generally in about 8-10 knots of southeasterly breeze, on a track to remain just north of a field of very light air that lies just south of their rhumb line course to Bermuda.
"At 1500 EDT Icebear had 353 miles and Isbjorn 393 miles to go to the finish line just outside Town Cut at St George's.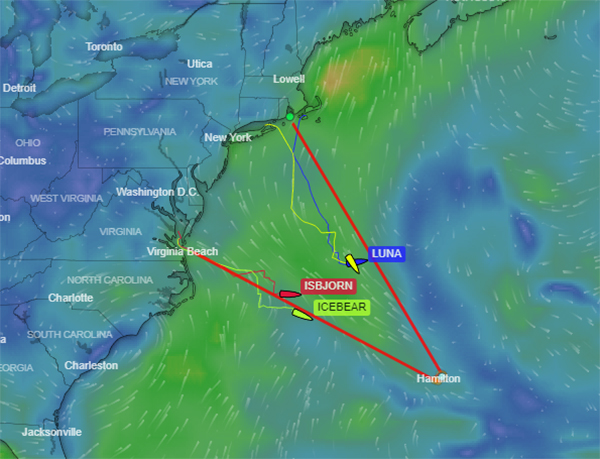 "Of interest to Bermudians is that Isbjorn is on a bit of a homeward journey: this boat was first owned by prominent Bermuda-based offshore yachtsman Warren Brown and named War Baby, one of numerous boats Brown owned with this name over the decades he was active racing and cruising around the world. Before his passing in December 2014, amongst his many acts to help promote Bermuda's sailing culture was being a supporter of the Bermuda Sloop Foundation [BSF], the charity being supported by this race."
As BSF's Alan Burland explains, "We have some great trophies for this race, and are able to use one donated to BSF by Warren Brown, Sr from a race he won on War Baby in Monaco in 2003. We are renaming it the Colin Clarke Memorial Trophy for the father of fellow Rally organizer Mark Clarke's father who was a founder of the EEMYC and a sailing advocate. It will be awarded annually to the overall winner of The Spirit of Bermuda Rally."
Meanwhile on the North leg yesterday brought some excitement for the double-handed team on Alessandro Pagani's Spirit 47 Luna, who reported they chose to use their engine to motor away from a nearby waterspout they encountered in the Gulf Stream. They are currently locked in a boat-for-boat battle with Hank Schmitt's Swan 48 Avocation.
"All is well on Luna," reports the team. "Navigated around several squalls and now the wind has freshened to 14-16 kts. You should have received a report of motoring for 55 mins when wind died below 5 kts last night.
"Forecast looks like it will be an upwind slog for the next 300 nm! You'd be happy to know we are in visual contact with Avocation, only 4 nm NW of us!"

Read More About