The National Museum of Bermuda [NMB] recently launched one of its 2021 education programmes: "Tracing Our Roots/Routes".
"This year-long series of online presentations and workshops by overseas and local experts, and an on-site contemporary art exhibit will support and encourage family history research and connections to the past," NMB said.
"The programme kicks off on Wednesday, February 17th at 5:30pm with a free webinar 'The Journey of Family Discovery I: Tips, Tools & Strategies' by Kenyatta Berry, a renowned American genealogist, author, attorney and television host of PBS's Genealogy Roadshow.
"Berry will help you learn how to interview living relatives, use genealogy methodology, and access US and immigration records for those who left Bermuda for the United States. Each attendee will receive an interactive 'Family Discovery Toolkit' to help trace your ancestry.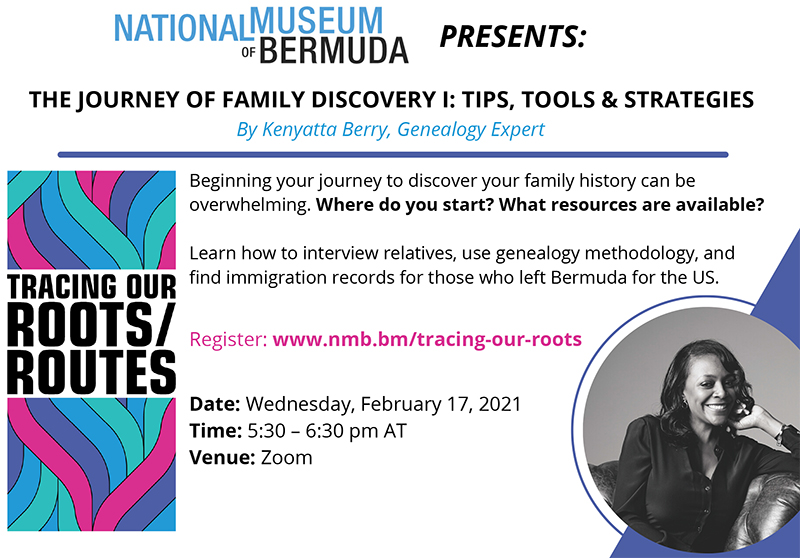 "Berry's vast knowledge in the areas of African American Genealogy, Enslaved Ancestral Research and DNA has made her an invaluable 'go to' source for information from all parts of the world. As demand grows for people to learn more about their lineage and DNA, Berry continues to innovate, transforming the world of genealogy by making it more accessible to all."
When asked about this event, Lisa Howie, NMB Director of Learning & Engagement said: "Kenyatta has so much experience to share, which she will do in her own kind and pleasant way.
"I appreciate that starting down [or returning to] the path of family history can be a lot to take on, but Kenyatta has a way of talking through resources that feels achievable. I think she's going to give everyone a sense of direction that will help push through any fears or barriers that may make the family history quest daunting or overwhelming".
This webinar is half of a two-part workshop; the second, "The Journey of Family Discovery II: Understanding Local Resources", will be hosted by local experts Jane Downing [NMB], Ellen Hollis [Bermuda National Library], and Mandellas Lightbourne [Bermuda Archives] and will take place on Wednesday, March 17 at 5:30pm AT. Register and learn more here. Student and teacher resources will be available, email education@nmb.bm for more information.

Read More About