A new virtual workshop with an aim to "empower women" is being launched by Jessica Lightbourne and Toby Butterfield with what they called "equity pricing."
A spokesperson said, "A new virtual workshop to empower women is being launched this weekend with a twist in the pricing. A Little Bit Braver Women's Workshop Series has been created to support women in building their capacity and comfort with speaking up in different areas of their lives.
"The project comes from Jessica Lightbourne and Toby Butterfield, both Bermudian women with experience in running engaging workshops and who care about making a difference in social equity."
Ms. Lightbourne, co-facilitator of A Little Bit Braver noted: "Our workshops are supportive, warm and non-judgmental. We welcome women from all backgrounds and love watching them get clear and get a little bit braver in speaking up. While much progress has been made in society, women still need support to feel comfortable using their voices in both public and private spaces."
Ms. Butterfield commented: "We know a number of the factors that cause women to stay quiet come from systemic oppression and how the whole of society is conditioned and structured. So as we bring this offering to women, we want to address these societal inequities in our pricing model.
"We call it equity pricing. In it, we dare to imagine a world where some of the people or organisations that have historically had unfair advantages due to gender and/or race, would want to financially support initiatives such as this. Leveling the playing field only happens with action."
Ms. Lightbourne added: "The vision for our workshop is to have 8 of these individuals/organisations provide $100 each so that 8 women only have to pay $25 instead of the $125 standard price to attend the 5 sessions. We're calling the $25 price the equity scholarship. Any donations that aren't needed for equity scholarships will be given to the Women's Resource Centre."
"The workshop series begins this Saturday, March 20th at 4pm on Zoom. It will run every other Saturday from 4 to 6 PM for a total of 5 sessions. Registration details can be found at www.bdatix.bm. To make a contribution to the equity scholarships, contact the facilitators at littlebitbraver@gmail.com or direct transfer to HSBC 010-567949-014 to beneficiary Jessica Lightbourne with 'equity scholarship' in the reference section," a spokesperson added.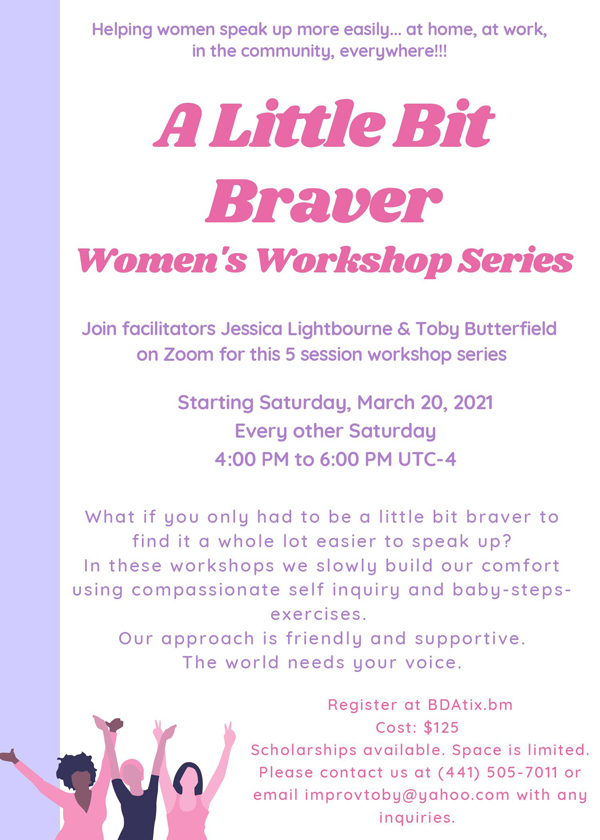 Read More About
Category: All