The International Women's Day Bermuda [IWD Bermuda] committee will be holding a virtual celebration on Monday, March 8th, with the committee also launching the #ChooseToChallenge campaign.
IWD Bermuda posted the video below on social media, saying: "Bermuda, we asked you how you #ChooseToChallenge… and you did not disappoint! Thank you to all of the amazing, strong, beautiful, smart, talented women who contributed to this video. Keep choosing to challenge and together we will achieve a gender equal world. Register now for International Women's Day Bermuda's virtual event taking place on March 8th from 12:30pm to 1:30pm. registration here."
A spokesperson  previously said, "On Monday, March 8th 2021, communities across the globe will collectively celebrate International Women's Day 2021, recognizing women and their achievements, while highlighting the ongoing mission of seeking equality for women.
"This year's theme is "Choose to Challenge" because change can occur when you make the decision to stand up and challenge the status quo. Individually, we're all responsible for actions but by working together, we can help make the shift to a more inclusive world.
"For this reason, the International Women's Day Bermuda [IWD Bermuda] committee is excited to announce that on Monday, March 8th, they will continue with their annual celebration by hosting a virtual event from 12:30p.m.-1:30p.m."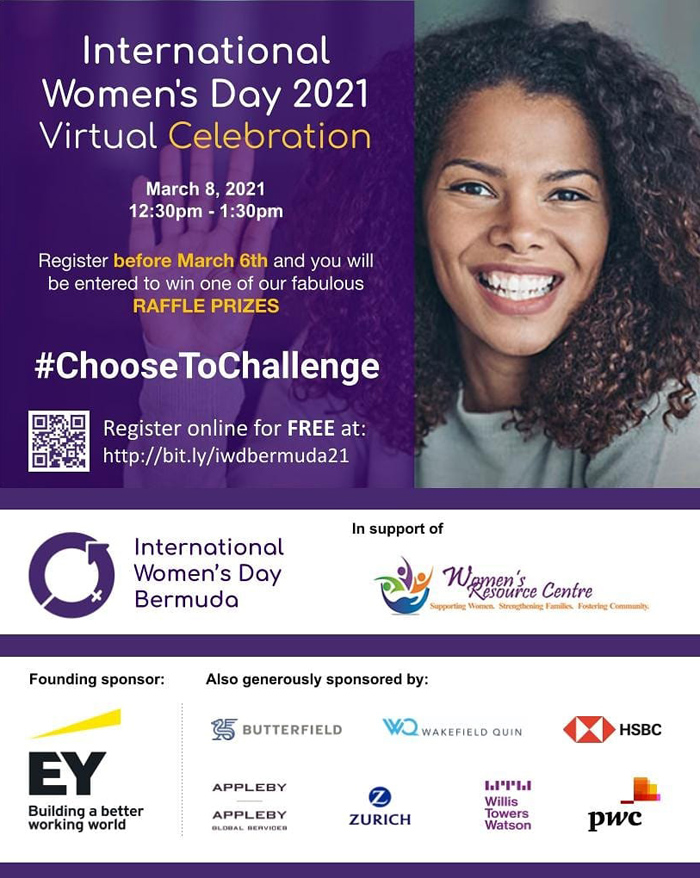 Read More About