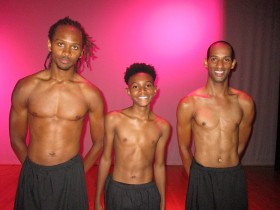 [Written by Dale Butler]
United Dance Productions Artistic Director, Suzette Harvey, students and staff can relax after two great evenings of outstanding dance at The Berkeley Institute.
The theme, "Tryin' Times," was made popular by American singer Roberta Flack, who performed at our own Jazz Festival. The catchy bass line set the tone when it was played throughout the night. As each dance came to an end, you could feel the audience releasing the tensions that have built up in the past few years because the sullen impact of Covid had curtailed many live events.
After the Covid check in, we had to stay safe by keeping our mask on while seated. This did not block our eyesight in any way. There simply was so much to enjoy to be worried about the mask. Each dance showcased the talented dancers who committed themselves to a strenuous schedule to perform at this level in the midst of the pandemic.
Eleven dances overwhelmed the enthusiastic audience who found it hard to stop applauding after brief pauses in dances that had 3 or 4 parts. Choreographers Eric Bean, Carling Ray, and Shanna Henry were in fine form producing exceptional works that should be standard repertoire pieces for the company like "Four women" made popular by singer the late Nina Simone; "Motherless" and "Sunday Service."
The exploration of love by a couple in "Again" was perfectly portrayed by dancers Alexis Smith and Dezjuan Thomas. While I could comment on each dance I will only sum up by saying they were all exceptional.
Explored for the first time, in Bermuda, on stage, was, "Asylum" which showed the pain, confusion and erratic behaviour in a real way of those who receive treatment in such institutions, now called in Bermuda, the Mid-Atlantic Wellness Centre. Their dance left a chilling feeling.
"Motherless" performed by male dancers Dezjuan Thomas, Zh'ky Tuzo and Takai Tota would easily win a gold medal in any competition. Ms Harvey has a way of motivating boys to join, learn and dance. I saw it at St. George's Secondary School when I was principal and she was the dance teacher.
I see a bright future for all 3, especially the 13 year old dancer. Also refreshing were her comments about the success of many of her students in dance and a variety of professions. I was surprised that some had started as early as 2 years old.
During the week Gisella Filice was highlighted in the media as the impetus for "Trying Times." With her second year at the Institute of the Arts in Barcelona, Spain, on the horizon, I am sure she was pleased with her performance in five pieces and the dedication of the whole troupe to complete 11 dances in 6 weeks.
Bermuda should salute her for her leadership and we should be proud of everyone who worked hard in these "Trying Times' to bring the best out of these young people who gave us a two day festival of extraordinary dance that I would say is another gold medal for Bermuda. I have been a dance fanatic attendee from teenagehood and have seen a lot of it from New York to London, Tasmania, Vietnam, Jamaica and Denmark to name but a few countries.
Dance doyennes, the late Louise Jackson, and Patricia Gray are applauding this talented group in heaven. All they need to hear is how the Government will have the Ruth Seaton Auditorium renovated to international standards this year.
To Ms Harvey and teachers who were committed to high standards; the parents who sacrifice to pay for lessons and support their children; to the choreographers who used a variety of songs, including a unique "Jesus Walks" song; to the sponsors, technical crew and last but not least to the audiences, I salute you all for a perfect night of dance worthy of more than the Bermuda Festival. When they are snapped up by overseas dance companies, or get to perform internationally, you will know why.
- Dale Butler is a former principal and Government Minister for Culture. He currently writes reviews for Bernews and previously wrote the popular "Eating with Ed" for the Bermuda Sun in the 1980s. As a former director with the Little Venice Group for 20 years he has a broad knowledge of food and service.

Read More About
Category: All, Entertainment, News