The inaugural Environmental Ocean Hero Awards ceremony was held at the Bermuda Underwater Exploration Institute [BUEI] on Thursday, November 25, recognizing "individuals in Bermuda for their tireless effort to preserve and protect Bermuda's environment."
Ronald Stan, BUEI Co-Chair, said, "Bermuda's history is unmistakably tied to its surrounding environment, and we thought it important to highlight those who have fought tirelessly to protect the seas integral to our survival."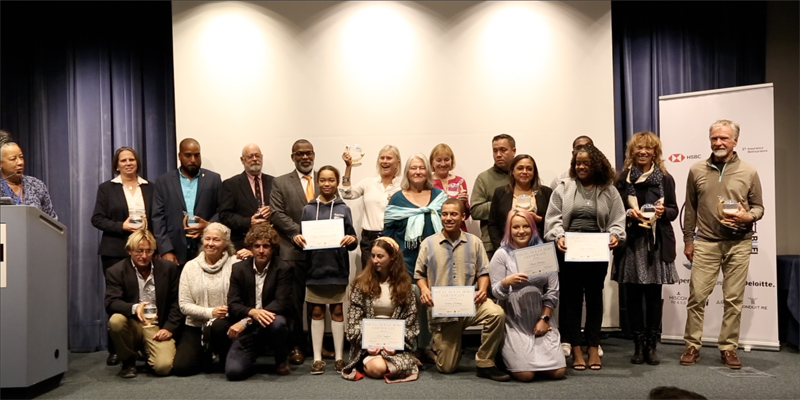 The spokesperson said, "There are two categories of awards: the titular Ocean Hero Award, and the Young Hero Certificate.
"The Ocean Hero Award is for any individual, living or deceased, who has demonstrated at least ten years of steadfast dedication to the mission of education surrounding and conservation of Bermuda's ocean.
"The recipients of the Ocean Hero Award are as follows:
Choy Aming
Dr. Neil Burnie
Judie Clee
Jennifer Gray
Anne Hyde
Dr. Joanna Pitt
Dr. Philippe Rouja
Dr. Samia Sarkis
Andrew Stevenson
Dr. S. Robbie Smith
JP Skinner
Teddy Tucker
Weldon Wade
Dr. Tammy Warren
"Judie Clee, Anne Hyde, JP Skinner and Dr. Robbie Smith were recognized as Ocean Mentors for their commitment to ocean research and conservation; both have dedicated their time to inspiring and educating the next generation of ocean advocates.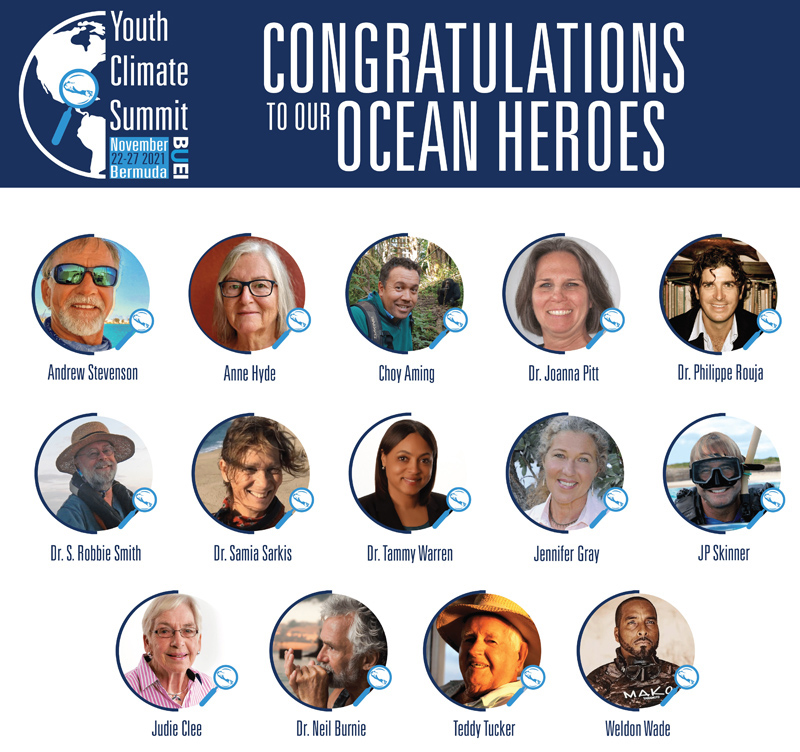 "Choy Aming, Dr. Joanna Pitt, Andrew Stevenson, and Weldon Wade were recognized as Ocean Innovators for developing projects that have had a positive impact on the health of Bermuda's ocean environment.
"Dr. Philippe Rouja, Dr. Samia Sarkis, Jennifer Gray, and Dr. Tammy Warren were recognized as Ocean Strategists for developing processes or services with a goal to improve conditions in Bermuda's ocean and marine ecosystem.
"Dr. Neil Burnie and Teddy Tucker were posthumous awardees recognized as visionaries in their respective spaces of ocean exploration.
"The Young Hero Certificate is for any student/young person at any stage of their activism journey, who has exhibited passion, drive, and dedication towards ocean conservation in Bermuda."
Karla Lacey, BUEI CEO, said, "It is with great pleasure that we at BUEI can shine the spotlight on the next generation of ocean activists. I am overjoyed to see our young Bermudians step up in areas that are crucial to our survival as a nation and as a people.
"I believe this is only the beginning and I look forward to being witness to what they continue to achieve."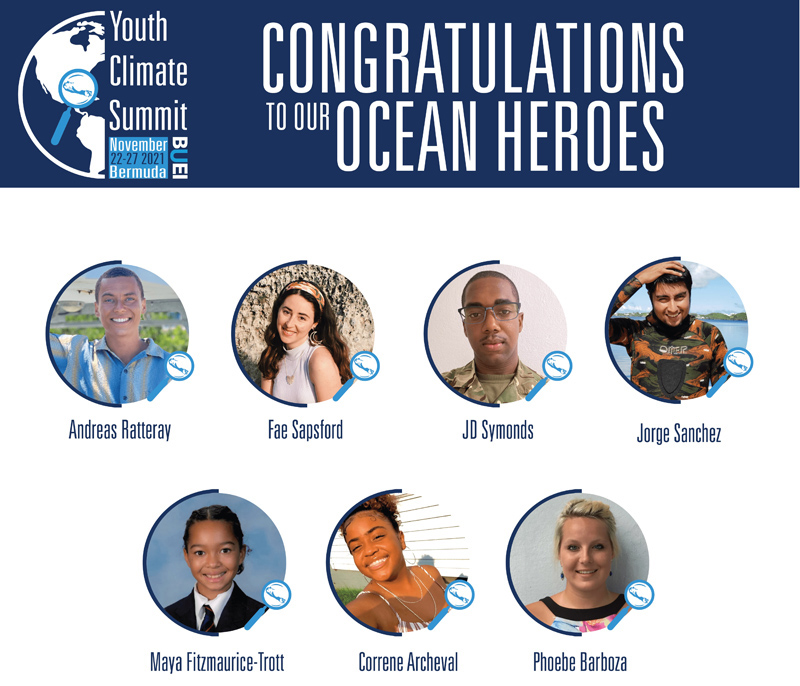 The spokesperson said, "The recipients of the Young Hero Certificate are as follows:
Correne Archeval
Phoebe Barboza
Maya Fitzmaurice-Trott
Andreas Ratteray
Jorge Sanchez
Fae Sapsford
JD Symonds
"Correne Archeval, Maya Fitzmaurice-Trott, and JD Symonds were recognized as Ocean Advocates for demonstrating their commitment to ocean conservation through consistent involvement with conservation programs in Bermuda.
"Andreas Ratteray and Fae Sapsford were recognized as Ocean Influencers for having created an original campaign, through the use of mainstream media and/or social media, with the goal of educating the public on Bermuda's ocean environment and the issues it faces.
"Phoebe Barboza and Jorge Sanchez were recognized as Ocean Researchers for taking on leadership roles in projects or research that have contributed to the understanding of Bermuda's ocean environment."
Ms. Lacey said, "BUEI expresses our sincere gratitude to each and every recipient. Every awardee recognized truly exemplifies the vision of this organization – to ensure the Ocean around Bermuda is widely understood, appreciated, and protected."

Read More About
Category: All, Environment, News