[Updating] The police are responding to some form of an incident in the Paget area this evening [Jan 20] with multiple police vehicles and officers on scene, and crime scene tape is visible.
Unofficial reports suggest there was a shooting; further confirmed details are limited at this time, however we are expecting to receive official information later on, and will update as able.
Update 9.35pm: Police confirm there was a shooting. Full transcription to come, in the meantime,the police said, "Just before 8pm, police were called to a residence in this particular area, Fritholme Gardens, where it is now confirmed that a young man has been shot."
Update 9.46pm: Video of the police statement
Update 10.10pm: Detective Inspector Jason Smith said, "I can report tonight that just before 8:00pm police were called to a residence in this particular area of Fritholme Gardens, where it is now confirmed that a young man has been shot.
"The inquiry, as you can appreciate, is very, very early," he added. "However, we are making an appeal tonight from the information that we know so far, for two men who were on a bike. Particularly, the color of the bike is white."
"There's also some information that there might have been a motor car involved. So what we're appealing for, is persons who were traveling along the road, South Road in Paget, just before 8:00pm who might have seen a white bike, two men on that bike, and the behavior of that bike is what we're interested in. We understand it was traveling at a high rate of speed. We're asking for you to make contact with us.
"The victim has been taken to a hospital. He does have gunshot wounds. I cannot give you an update at this stage as to his condition, other than to say that he is being treated at the hospital, and we should be able to have an update shortly."
Mr Smith concluded by summarizing, saying the "incident happened just before 8:00pm, one man has been injured, and there are two suspects, on a motorbike" and they "are appealing for anybody who was traveling along the road that might have seen that bike and/or a car that was driving in an erratic manner" to contact them.
Anyone with information can contact the Bermuda Police Service via 211, the main police number, 295-0011 or call Crime Stoppers on 800-8477.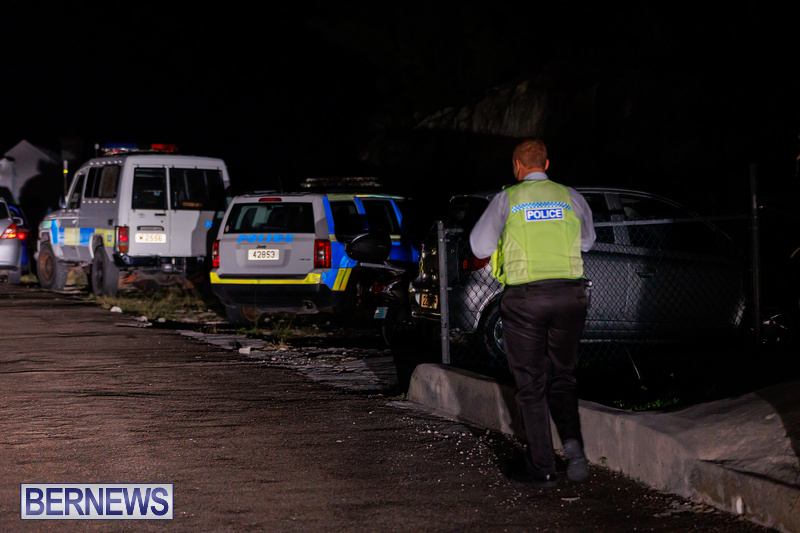 Update: A police spokesperson said, "Shortly before 8:00 p.m. on Thursday 20th January, 2022, police and Paramedics responded to a report of a shooting incident at a Fritholme Gardens, Paget residence, which left a 26-year-old male with multiple gunshot wounds.
"The victim was transported via ambulance to King Edward Hospital, where at last check he was undergoing surgery for his injuries.
"Police recovered a number of spent shells as well as live ammunition at the scene.
"Investigators are interested in speaking with anyone who may have seen two men a white motorcycle, traveling at speed in a westerly direction along South Road, Paget, around 8:00 o' clock tonight.
"The rider was dressed in all black clothing while the pillion passenger wore a tan jacket.
"Police are also seeking information on a motorcar being driven in an erratic manner and headed east on South Road, Paget, shortly after the incident
"Anyone with information on this incident or the vehicles mentioned which are believed to be linked to it, is asked to call 211, the main police number 295-0011 or, Crime Stoppers on 800-8477."
Update Jan 21, 10.25am: MP Scott Pearman said, "As the MP for the Fritholme Gardens area, I would like to express my profound sadness to the community and also to the families of those involved in this shooting.
"Gun violence is a senseless attack on our Bermudian way of life. The gang lifestyle leads to nowhere and those who choose to take that path in life will learn the hard way.
"The gun violence is increasing, and will continue to do so until we as a community come together to address the root causes. I support the call for any and all witnesses to come forward to assist as best they can. Remaining silent can no longer be the norm."
Update Jan 21, 1.30pm: The Minister of National Security Renee Ming said, "The shooting which took place last night in Paget has left a young man in hospital with life-threatening injuries. Our thoughts and prayers are with the young man and his family.
"We must beak this senseless cycle of violence. I again urge members of the public to assist the Police. If you know something, say something."
"As a Community, we cannot become complacent and must each do our part to support those individuals and families who are the victims of these crimes and mitigate the risk of further acts of violence by reporting what we know to the Police."
"The Ministry of National Security reminds the public that they can assist anonymously on the confidential Crime Stoppers Hotline on 800-8477 or dialling 211, or the main police number on 295 0011."
Read More About