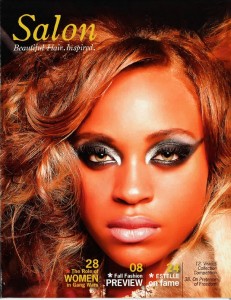 SALON INC, founded by Rinelle White earlier this year, today [Nov 16] officially released their new magazine – Salon – which is available at select salons across the island and major newsstands, and features articles on the latest trends in hair and beauty.
At a time when major publishers around the world are looking at reinventing the print business, SALON INC say they are "confident that the new magazine will fill a current void for readers in Bermuda."
Salon says their "vision will be to provide residents of Bermuda with the latest trends in fashion, hair and beauty, while also providing unbiased and thought provoking editorial on some of the critical issues facing the island and the world today."
Rinelle White, Editor and Founder of Salon said, "Today is a personal and professional celebration for me. The hair industry has always been my passion. I have always dreamed of being involved in the world of hair, fashion and beauty."
Ms White continued by saying, "I am fortunate to have worked with some very talented writers, designers, photographers, hair stylists and beauty specialists both locally and internationally."
The Fall/Winter Issue of Salon features articles on Estelle, international recording artist who recently performed at the Bermuda Music Festival, an exclusive interview with Barry Fletcher, cosmetology entrepreneur and celebrity stylist, and coverage from the Premier Orlando Show, one of the nation's leading hair shows featuring the best hair stylists and hair industry brands from around the world.
Salon's cover story, The Role of Women in Gang Wars is an inside look at some of the challenges our young women in Bermuda are facing today as they get deeply entrenched into Bermuda's single most critical social issue plaguing the island today – gang warfare.
"Salon strives to have a voice in the community and while the predominant focus of the magazine is on hair and beauty, I felt it was important that we use the publication to talk candidly about some of the serious issues facing our community today," said Ms White.
Salon will publish bi-annually with a Spring/Summer and Fall/Winter issue.
Read More About
Category: All, News, Style & Beauty