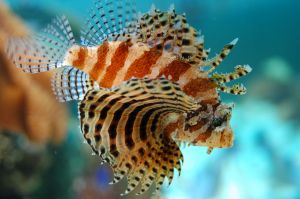 With the local marine forecast calling for increased swell activity and strong winds for the weekend ahead, Groundswell, the charitable body behind this year's lionfish tournament has been forced to postpone the event.
Speaking yesterday, Groundswell president Matthew Strong said, "Whilst weather may prevent our attempts to be on the reef culling the invasion, we will not allow weather to hamper our efforts to continue to raise awareness of the threats of this invasive fish."
"In light of such, Groundswell will host an information and tasting stall this coming Wednesday August 31 at Harbor Nights on Front Street. We will have samples of locally inspired recipes prepared by Bermuda's top lionfish chef Chris Malpas, live lionfish on display, t-shirts for sale and application forms to participate in this year's tournament."
Groundswell also announced a revised format to the tournament whereby entrants can start culling today with a view to clearing as many lionfish from the reef as possible between now and the revised weigh-in date.
Groundswell founder Tim Davidson added, "We are here not only to raise awareness, but to also mobilize the community to take a proactive role in protecting our marine environment. So much so that we are encouraging entrants to get out there as much as possible over the coming weeks and to start freezing their catches so that they can be presented at the revised weigh-in date at BIOS."
Whilst the revised date is yet to be announced, it is anticipated to be a Sunday in late September or early October.
Groundswell is a registered charity under the Charities Act 1978, and more information can be gathered from their website at www.reefspect.com or by contacting the Groundswell team on info@reefspect.com.
Read More About
Category: All, Environment