[Updated with video] This evening [June 21] the public unveiling of the Graham Foster tribute sculpture took place at the Botanical Gardens, along with the opening of the "Imagine the Art of John Lennon" art exhibit.
"The Imagine the Art of John Lennon" exhibit at the Masterworks Museum includes a selection of lithographs from Lennon's "Bag One Portfolio" – a suite of prints published and hand-signed by John Lennon in 1970, centered around his wedding in Gibraltar to Yoko Ono and posthumous limited edition prints signed by Yoko Ono.
Tony Brannon and Premier Paula Cox with the sculpture: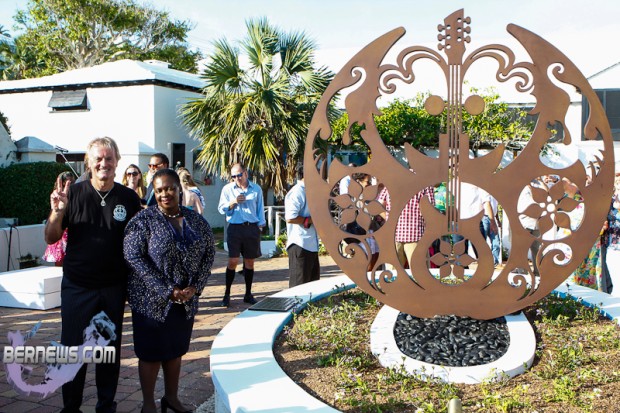 The images are a cross section of "peace" themed drawings, the "Real Love" drawings he created for his son, Sean, and serigraphs created from John Lennon's hand-written lyrics from the "Double Fantasy" album. This exhibit will be on display in the Rick Faries Gallery from June 21st – July 4th.
While in Bermuda accompanied by his four-year-old son Sean, the former Beatle — who had not released an album of original material since "Walls And Bridges in 1974 — completed more than 20 songs. Some were entirely original compositions; others he had struggled with for years while contending with a debilitating case of writer's block.
Artist Graham Foster poses with the sculpture he created: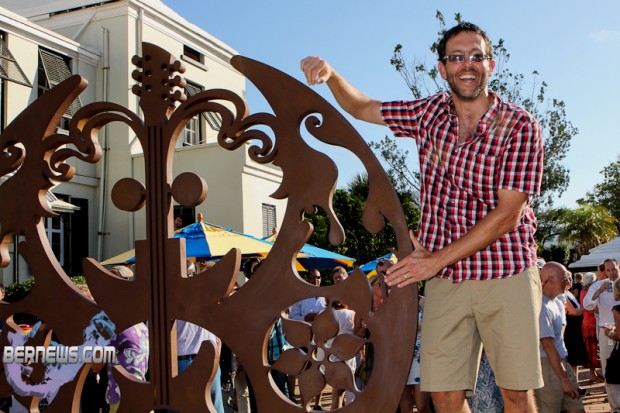 Before his murder, Lennon credited both his ocean crossing and the time he spent in Bermuda with revitalising his creative energies. He explained to interviewers how he and wife Yoko Ono (who had stayed in New York to "take care of business" during his Bermuda interlude) collaborated over the phone while he was on the island.
Lennon said a night out at the old Disco 40 on Front Street — his first visit to a nightclub since the mid-1970s — exposed him to then-current musical styles. The mould-breaking reggae, punk and New Wave sounds reminded him of his wife's avante garde compositions and prompted Lennon to pick up his guitar again later the same evening.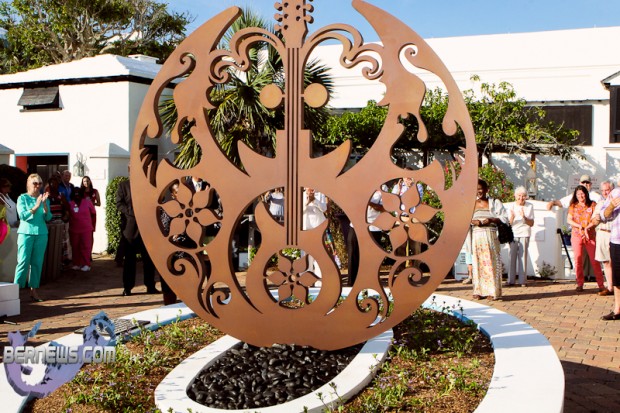 "I was at a dance club one night in Bermuda," Lennon told "Rolling Stone" in an interview conducted just three days before he was shot to death. "Upstairs, they were playing disco, and downstairs, I suddenly heard 'Rock Lobster' by the B-52′s for the first time. Do you know it? It sounds just like Yoko's music, so I said to meself, 'It's time to get out the old axe and wake the wife up!' We wrote about 25 songs during those three weeks, and we've recorded enough for another album."
Lennon credited the stormy ocean crossing to Bermuda with galvanising him back into action after a protracted period as a "house-husband" in New York, raising Sean and focusing his creativity on baking bread.
In a video message John Lennon's widow Yoko Ono said, "I am pleased that John is being honored in the Bermuda Botanical Gardens. It is where he discovered the Double Fantasy freesia flower which became the title of his last album. Know that he loved and was immensely inspired by Bermuda. His spirit is now a part of the beautiful Botanical Gardens where I hope peace and love will grow."
The Bermuda tribute is being organized Tony Brannon, and will also include a tribute concert on September 21st — the International Day of Peace — in which Local artists will join international reggae singer Maxi Priest for an evening of music to celebrate the life of John Lennon.
Read More About