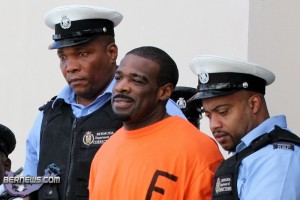 In the Appeals Court this morning [Nov 5], David Jahwell Cox launched an appeal against his murder conviction.
On August 9th 2010,  Troy "Yankee" Rawlins was gunned down in the entrance of Spinning Wheel nightclub on Court Street.
Mr Cox was arrested shortly after the shooting, and charged with murder on August 25th 2010.
During the trial the court heard that Mr Rawlins was shot 16 times, and viewed the CCTV footage of the shooting. Testimony was also presented that the guns used to kill Mr Rawlins were used in a number of other shootings, and that Mr Rawlins had ties to Parkside, while Mr Cox was said to have ties to 42nd.
Mr Cox was convicted of murder, and in July 2011 he was sentenced to life in prison, with the Court ruling he must serve a minimum of 38 years in prison before he can be considered for parole.
Mr Mussenden's main point in this morning's submission was that that part of the Crown's evidence tendered by Police Sergeant Rollins should not have been admitted as 'expert evidence' and that the jury might have been unduly influenced by this treatment of Sgt Rollins.
Mr Mussenden was arguing that Justice Carlyle Greaves ought not to have accepted Sgt Rollins as a witness whose testimony on gangs could be accepted as testimony coming from an expert witness. Mr Mussenden argued that this treatment of Sgt Rollins was out of step with UK legal precedents.
The three judge Appeals Court panel questioned Mr Mussenden as to why the defending lawyer, Mr Perry QC had not, at the time, challenged Sgt Rollin's expertise when he was cross-examining the Sergeant and had the full opportunity to do so at the original trial.
Mr Mussenden continued with his argument that Sgt Rollins ought not to have been considered as an expert witness. The appeal continues.
- File photo
Read More About
Category: All, Court Reports, News