[Updated with videos] This evening [Nov 8], the Progressive Labour Party are hosting the "Standing Strong for Warwick – Road to the Election" event at the Warwick Workman's Club.
The speakers are scheduled to include Warwick candidates Lawrence Scott, Dale Butler, Marc Bean, Lt/Col David Burch and Jonathan Smith, along with Premier Paula Cox. The audience is a sea of green t-shirts, and they are reacting very enthusiastically to the speakers.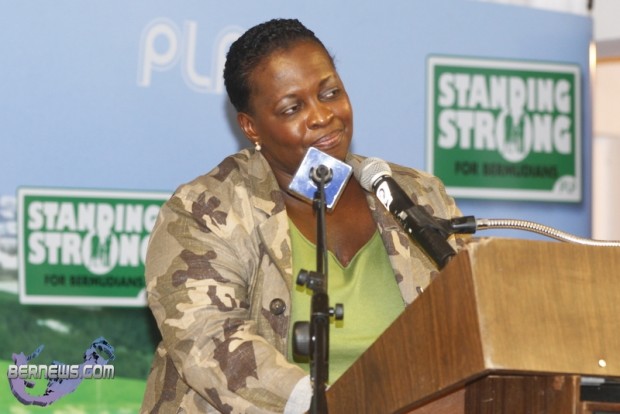 The first speaker was Jonathan Smith [C#28 Warwick West vs OBA's Jeff Sousa]. The next speaker was Marc Bean [C#26 Warwick South Central vs OBA's Ras Mykkal] As of 8.26pm, Minister Bean is still speaking.
Dale Butler [C#25 Warwick North East vs OBA's Mark Pettingill], Lt/Col David Burch [C#27 Warwick North Central vs OBA's R. Wayne Scott] and Lawrence Scott [C#24 Warwick South East vs OBA's Alexis Swan] are also scheduled to speak.
Other PLP candidates present include Lovitta Foggo, Derrick Burgess, Dawn Simmons, Marcus Jones, Dame Jennifer Smith, Wayne Perinchief, Michael Weeks, Rolfe Commissiong, Wayne Furbert, Kim Wilson, Vince Ingham, Zane DeSilva, Vance Campbell, Diallo Rabain, David Burt and Makai Dickerson.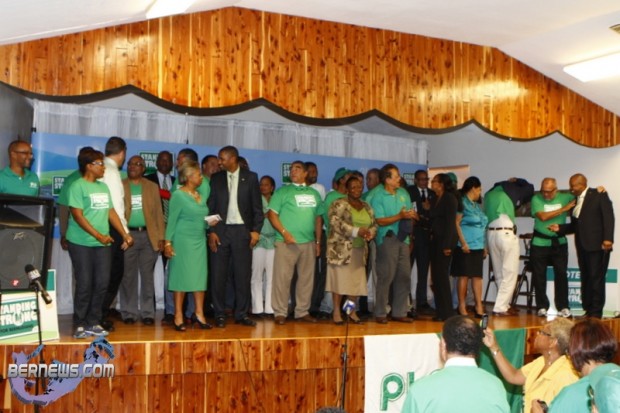 With an election call pending, speculation continues to swirl about when the Premier will make the call. We will update with any major statements from the Premier if they should happen, and video coverage of all speakers as able.
Dame Jennifer & Premier Paula Cox:
Dale Butler:
Lawrence Scott:
Jonathan Smith:
Marc Bean:
Read More About