S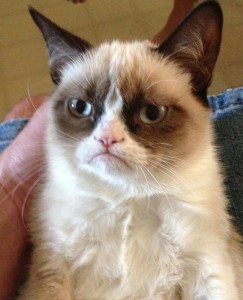 he's the supposed sourpuss with the face which launched a thousand memes — Tardar Sauce, the now ubiquitous Internet feline whose expression is full of cat-itude.
Famous the world over for her distinctive feline frown, the so-called Grumpy Cat is actually a happy animal — her permanently grumpy face the result of feline dwarfism.
Last week New York-based Bermudian journalist/blogger Clare O'Connor got to meet and pet Tardar Sauce — who is currently engaging in what could loosely be termed a charm offensive of major media outlets in the US.
Ms O'Connor — who covers what she calls "the billionaire beat" for "Forbes" magazine and its sister website — was on hand when Tardar Sauce and owner Tabatha Bundesen visited the Club Room at the Manhattan offices of "Forbes" for a tongue-in-cheek interview.
"Internet celeb Grumpy Cat — real name: Tardar Sauce — visited 'Forbes' on Friday [Mar.22]," Ms O'Connor, a veteran of the Bermuda print media, posted. "She couldn't have been less amused …"
Ms O'Connor said the normally imperturbable "Forbes" staff, long accustomed to rubbing shoulders with the key movers and shakers in industry, high finance and the media, were star-struck by Tardar Sauce's presence in their offices.
"Judging by the cast of thousands crowding into the Club Room, you'd have thought Bill Gates or Oprah was in the building," the former Bermuda High School student and Columbia University graduate posted.
One of the world's leading financial news sources, "Forbes" has more than a casual interest in the frowning feline — Tardar Sauce's owners have actually founded an increasingly lucrative business based around the Grumpy Cat franchise.
Tardar Sauce is due to appear in her own Friskies TV commercial shortly and stars in the feature documentary "Lil Bub and Friendz" which will premiere at next month's Tribeka Film Festival in New York.
Bermudian Clare O'Connor cuddles Tardar Sauce, aka Grumpy Cat, at the "Forbes" offices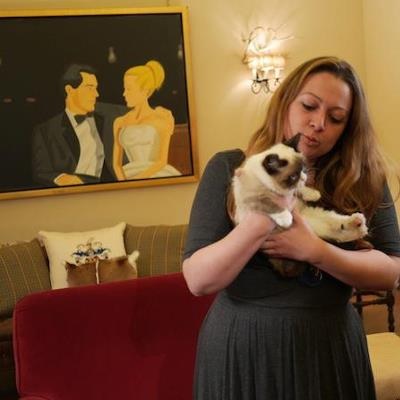 Arizona resident Tabatha Bundesen adopted Tard's mother and on April 4, 2012, Grumpy Cat was born.
A couple of months later, her brother Bryan decided to post a photo of the seemingly always-mad cat on Reddit just for fun.
"She was lying in my lap and she looked extremely grumpy so I decided to put it on Reddit," Mr. Bundesen told ABC News.
"It went viral and I never expected it."
The rest, as they say, is Internet history. People started circulating the photo and slapping funny text on top of it and then Mr. Bundesen founded grumpycats.com.
The other, non-official, Twitter account — @ItsTheGrumpyCat — has more than 300,000 followers.
"A lot of people think we are exploiting the cat, we limit her exposure greatly," Mr. Bundesen has said. "… Ninety-nine percent of the time she is just a regular cat.
"She is not front of the camera at all times, she is a normal house cat and we love her."
Grumpy Cat: "The Forbes" interview


Read More About
Category: All