To mark this year's celebration of Earth Day, Keep Bermuda Beautiful [KBB] will hold a celebration tomorrow [Apr 22] at City Hall, followed by the annual Island-Wide Spring Clean on Saturday, April 23.
The Earth Day celebration will take place from 5.00pm to 7.00pm at the City Hall steps and lawn. The event is free and open to the public, with Mayor of Hamilton Charles Gosling to host and Minister of Health, Seniors and Environment Jeanne Atherden to read a Proclamation in order to officially announce Earth Day in Bermuda.
A spokesperson said, "The event will feature an Eco Expo with environmental exhibitors and vendors including La Garza nature-inspired jewelry, the BELCO bike, BEST, Be Solar, Greenrock, Waste Management, Mr. Organic Juice Bar, Ashley's Lemonade, and Scoops N Cones. The Keep Bermuda Beautiful booth will be registering additional volunteers and handing out supplies for Saturday's Island Wide Spring Clean."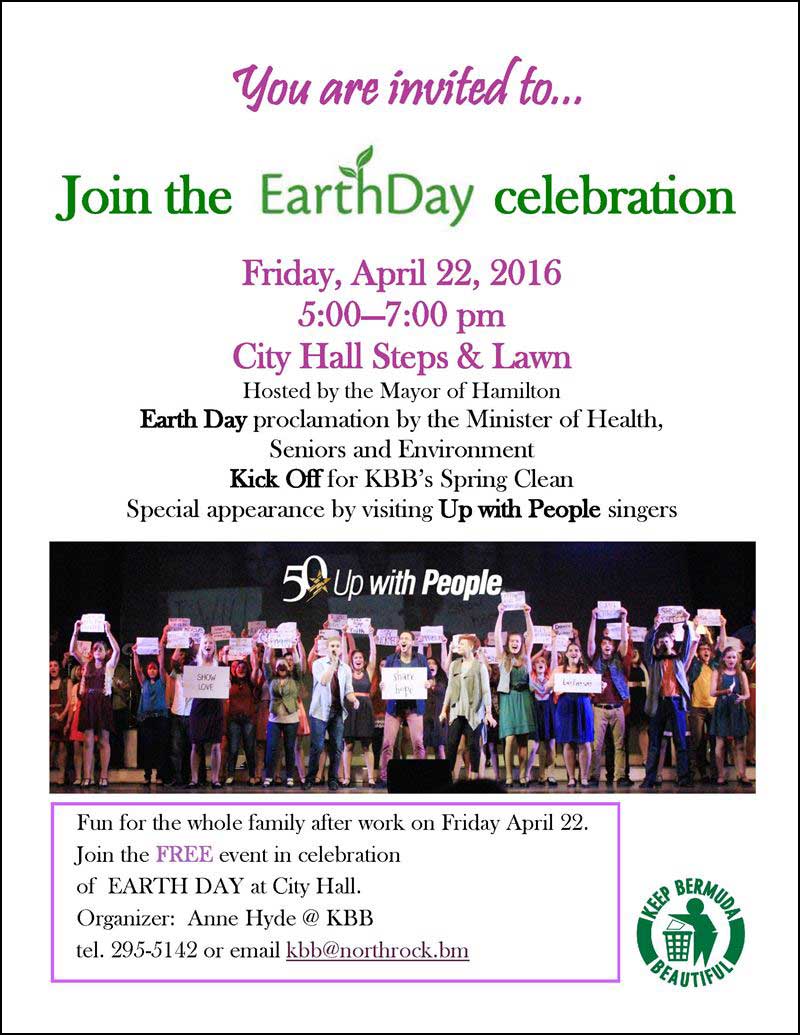 "In addition, the audience will be treated to a free performance from visiting Up with People, who are in Bermuda as part of the group's 50th anniversary world tour.
"Up with People is a global education organization which aims to bring the world together through service and music. Sixty-five Up with People volunteers will kick-off Earth Day on Friday morning with a KBB clean up of the City of Hamilton. They will spend four hours working throughout the city to complete their community service project followed by a picnic lunch courtesy of the Market Place.
"KBB will host its annual Spring Clean on Saturday, April 23 at locations across the island; 25 clean-up locations are registered to date. To join, or to register your own clean up location, contact KBB. Clean ups must be registered to ensure trash collection by the Parks Department and /or W&E Waste Management who are providing trash removal for the event."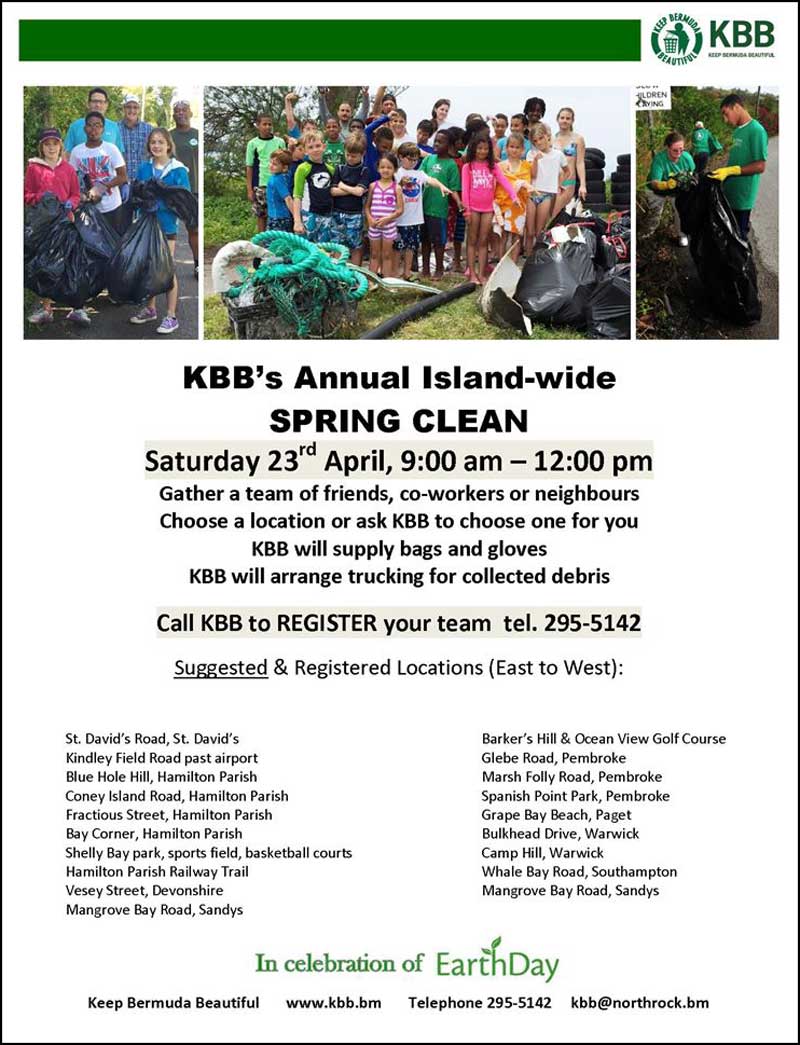 "There are two ways to register for the Spring Clean: come to KBB's booth at the Eco Expo at City Hall on Friday evening and sign up and collect your clean-up supplies at the KBB booth or contact Anne Hyde at KBB by calling 295-5142 or emailing kbb@norhtrock.bm.
"The Hamilton Parish Council is helping to promote the Spring Clean and will be making it easy for residents of Hamilton Parish to join the clean-up event. If you would like to volunteer in Hamilton Parish, you can pick up supplies at 9.00am on Saturday from the Shelly Bay parking lot or from the entrance to Ducks Puddle.
"KBB thanks our sponsors and supporters for this year's Earth Day and Spring Clean events: the Garden Club of Bermuda, The Market Place, Corporation of Hamilton and BMDS. And as always KBB is extremely grateful to our community partners at the Department of Parks and the Waste Management section of Works & Engineering for their work in removing trash and debris following the clean up."
For more information, call 295-5142 or 799-5142, email kbb@northrock.bm, or visit the website or Facebook page.

Read More About
Category: All, Environment