Six local musicians have been chosen to be a part of The Band which will play at various events during the America's Cup, with Dave Pitman, Jesse Seymour, Torrey Tacklyn, Troy Washington Sr., Raven Baksh and Leroy Francis all set to perform.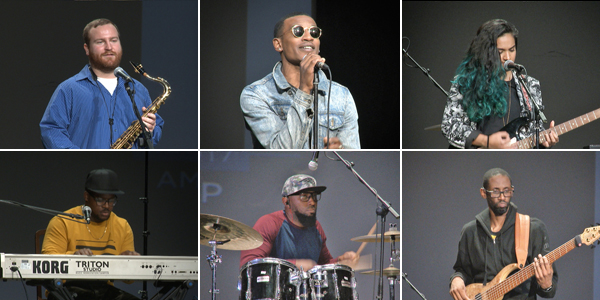 "After live auditions, the public were encouraged to vote online for their favourite contestants to make the shortlist for final selection of The Band. The final decision was made by the judges," the ACBDA said.
"More than 3,000 votes were cast during a week and a half voting period which shows the high interest Bermudians have in The Band!
The Band members announced are:
Dave Pitman – Saxophonist
Jesse Seymour – Male Vocalist
Torrey Tacklyn – Bassist
Troy Washington Sr. – Drummer
Raven Baksh – Female Vocalist/Guitarist
Leroy Francis – Keyboardist
"Another opportunity has arisen since voting closed, to add another guitarist to The Band's roster to ensure all The Band's playing commitments can be met throughout the 35th America's Cup," the ACBDA continued.
"Interested guitarists are asked to email talent@americascup.com by 7th February to register their application. The same judging panel will review the submissions and decide on the additional musician."
Sancha Durham, Event & Business Solutions Support Coordinator, ACEA, says: "We saw an amazing response from talented musicians throughout our search, and, with the help of the public vote have selected an awesome line-up for The Band, and now we have a chance to add another guitarist to The Band.
"We look forward to receiving submissions in the coming days, as this is an exciting opportunity for Bermuda's best guitarist to have the chance to play a unique part in the 35th America's Cup."
The panel of judges had representatives from the America's Cup Event Authority [ACEA] and America's Cup Bermuda [ACBDA] and included The Band Musical Director Robert Edwards.
The panel narrowed the pool of contestants to 25 in the categories of female singers, male singers, drummers, guitarists, bassists, keyboardists, percussionist and saxophonist.
The Band will play at various events during the 35th America's Cup including Dock-Out shows, in the America's Cup Village and at America's Cup parties. They will learn each America's Cup sailing team's song as well as playing a mix of soca, reggae, Top 40 and traditional Bermuda-themed songs.
This is one of two major entertainment initiatives of the America's Cup. The Local Talent Programme will see existing local bands, solo musicians and entertainers of all kinds performing in the America's Cup Village during the five weeks of the events in May and June.
'The Band' will supplement the local talent programme and will also play at selected America's Cup events.

Read More About
Category: All, Entertainment, Music, News