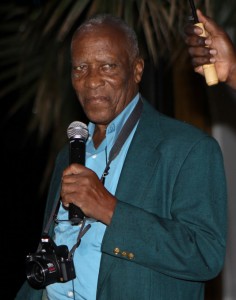 [Updated + Written by Don Burgess]
Ira Philip, Bermuda's literary freedom fighter, passed away at the age of 92.
Mr Philip was a PLP senator, journalist and author over his distinguished career.
He worked for a wide variety of media in Bermuda, including ZFB, becoming the editor of the Bermuda Recorder and later went on to work for the Mid Ocean News and the Royal Gazette.
It was while he was the parliamentary reporter for the Bermuda Recorder that black Bermudians saw the battles for their rights play out from their perspective.
He wrote many books documenting the history of black Bermudians including Freedom Fighters: From Monk to Mazumbo; The History of the Bermuda Industrial Union: a Definitive History of the Organised Labour Movement in Bermuda; Black in Defence of their Country; CHAMP! The only and Only Alma Hunt; and Heroines in the Medical Field of Bermuda.
PLP MP Derrick Burgess was president of the Bermuda Industrial Union when they commissioned a book about the history of the BIU.
Mr Burgess said, "Ira Philip was a gem. He was a great man, a great man and a good writer. I rate him as one of the best writers. Once you read his stuff, you can sustain it as you read it. Some people write, and you have to read over what they said, but Ira is very clear."
Mr Burgess added that Mr Philip was crucial is saving some assets of the BIU when there was a push to use it for different purposes.
"We thank him for that and his vision," the MP said. "We held on to them because he wouldn't let them use those assets."
Mr Burgess said the Freedom Fighters book, "unfortunately sees that history carry on today in a different form, but he has it recorded.
"He also has quite a bit of the history of the AME Church from 1898 and the early 1900s, recording the injustices and what they had to fight and go through in this country. Even to the point of being imprisoned. Ira wrote about that in Rev Monk. That is very important history, and everyone should have a copy of that book."
MP and columnist Chris Famous said, "It is his works and craftsmanship that opened the doors and set the bar for other Bermudian writers. It is his standards that have compelled me to continue to seek to improve my research into the history of our people and the documentation of our journey."
Mr Philip was a recipient of the Progressive Labour Party's Drum Major Awards in 2015 for his unselfish service for the betterment of Bermuda.
Update 2.38pm: Premier David Burt said, "Through his pen came knowledge and empowerment as he shone a light on the full history of Bermuda. He courageously recorded the struggle of black Bermudians to build a society and institutions to improve their lives and those of their descendants.
"Ira Philip's columns, commentaries and books have schooled generations of Bermudians and through his writings we have come to know our story, told in a unique voice.
"From his journalistic beginnings with the Bermuda Recorder newspaper, Ira Philip went on to dominate broadcasting as well as a reporter with station ZFB. His career of public service spanned several decades and as we reflect on his life's work, his contribution has undoubtedly enriched the fabric of Bermuda.
"On behalf of the Government and people of Bermuda I share our heartfelt thoughts and prayers with his family as they mourn the loss of this patriarch.
"Describing the importance of the Bermuda Recorder, Ira Philip essentially penned his own epitaph in words which, with little paraphrasing, easily apply to him: '(He) developed a personality and a soul that gave dignity and opportunity to the black people of Bermuda that was not forthcoming from other sources. (He) celebrated their achievements, mourned their losses, defended their rights and articulated their needs."
Update 3.15pm: A PLP spokesperson said, "The Progressive Labour Party today is saddened by the death of stalwart Mr. Ira Phillip.
"As the first News Director of Capital Broadcasting ZFB Radio, a journalist and reporter for the Bermuda Recorder and author of numerous books, Mr. Phillip's articles and columns featured civil rights in Bermuda and highlighted the struggles and successes of Bermuda's trade union. He could be counted on to capture events around the island, with pen and camera in hand, showcasing life in Bermuda. For his excellence and commitment to journalism, Phillip was awarded the Trailblazer in the Media Award by the Second District of AME Churches in Washington DC, and was honoured with a Lifetime Achievement Award by the Bermuda Arts Council.
"Mr. Phillip was not stranger to politics. He ran as a PLP candidate, served as a PLP Senator, and held the role of Party Chairman between 1985-1991. Mr. Phillip's contribution to the Party was invaluable, and his work with the Party in the aftermath of the 1986 election saw him guiding the evolution of the Party in its transition back into the leadership of the lay members from parliamentarians. He fought when it was unpopular to do so, but he understood the need for a better life and that social and economic justice was the vehicle to obtaining it.
"Our heartfelt condolences go out to his children, Ira, Veronica, Don Quidell, Braxton, Carlsen, Anthony & Deborah, and their respective children and families. We sincerely thank you for sharing your father with the Bermuda Progressive Labour Party, and the wider Bermuda. May your hearts be filled with comfort and memories of your dear father, and may these memories comfort you during this difficult time."
Update Apr 10, 7.40am: Former Premier of Bermuda W. Alex Scott said, "Today My Wife Olga and I were deeply saddened to receive the news of the passing of my parliamentary colleague and fellow Senator Ira Phillip.
"Over many years the Progressive Labour Party [PLP] and I benefitted greatly from the political activism and many talents of this dedicated member, chairman and PLP Senator. Whether he was turning out Campaign biographies, or news releases, always, Mr. Phillip was willing to step forward and provide any task or assistance requested. Consequently, it was my pleasure as PLP Leader in the Senate during the late 80s and early 90s to serve with him after his appointment by the late Party leader L. Frederick Wade in the Senate of Bermuda.
"I along with Senator Reverend Trevor Woolridge benefitted greatly with one of Bermuda's greatest historians in the island able to correct the United Bermuda Party [UBP] Government Senators where and whenever they misrepresented local history and events.
"With the passing of Senator Phillip I am minded of the African culture which declares that when a "Griot", the oral historian for the community dies, it is as if a library has burnt to the ground. Consequently, with the death of Mr. Phillip we have lost a journalist, author, "Griot" who has been the purveyor of our rich culture and history for many, people over many years.
"To his family, we acknowledge that our colleague Ira contributed much to our society and thereby has been a good and faithful servant thus we extend our sympathy, prayers and support at this most difficult time. "
Read More About