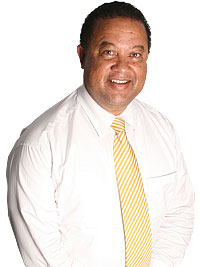 Former Leader of the United Bermuda Party [UBP], and then independent MP Wayne Furbert will join the Progressive Labour Party [PLP] tomorrow.
Mr. Furbert has confirmed the planned switch, and has been delivering letters to his constituents in Hamilton Parish. The letter says he "has changed the flag he carries, but not changed his heart".
Read the full letter here.
Bernews has been informed by a well placed source that Mr. Furbert may have been courted by senior member[s] within the PLP to join the party.
It is rumoured that Mr. Furbert approached the Bermuda Democratic Alliance prior to deciding upon switching to the PLP.
If Wayne Furbert crosses the floor as suggested, this would be the third time that a sitting member of the House has switched to the other established party.
MP Dr Paul de la Chevotiere was the first, crossing the floor in the late 1970′s from the PLP to the UBP. Co-incidentally he represented the same constituency as Wayne Furbert – Hamilton West.
In 1998 St. Georges South MP Grace Bell was the second, switching from the UBP to PLP.
In 2009, three sitting UBP MPs [Shawn Crockwell, Donte Hunt, Mark Pettingill] resigned from the UBP to form a new party, the Bermuda Democratic Alliance.
The change would alter the balance of the House to 23 PLP, 9 UBP, 3 BDA, 1 Independent.
The lone independent left in the House, Hamilton South MP Darius Tucker, was also a former UBP member who resigned from the party in 2009.
Mr. Furbert was elected as a United Bermuda Party Member of Parliament for his Hamilton Parish constituency in 1993. He served as Minister of Community and Cultural Affairs; later, as Minister of Transport and as Minister of Housing, Health and Social Services.
He became the Leader of the UBP in 2006, and served until March 21, 2007, being replaced by Michael Dunkley. During his resignation speech he said:
The United Bermuda Party is not perfect. But for all its faults, I believe in my heart that it offers this Island the best hope for a unified and positive future.
He resigned from the UBP in 2008 to become an independent MP.
UBP Leader Kim Swan stated today [Mar 18]:
Mr. Furbert left this party more than a year ago and, like him, we have moved on.

Mr. Furbert has been angling for this crossover for a long time. To get there he has repeatedly voted with Dr. Brown's government.
Speculation has already arisen that Mr. Furbert will assume a Cabinet position within the PLP, most specifically assuming a portfolio that is now carried by Premier Dr. Ewart Brown.
Read More About