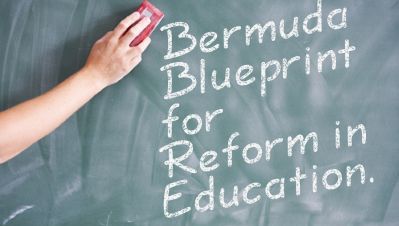 Myron Piper, spokesperson on education for the Bermuda Democratic Alliance [BDA], has responded to the Government's five year strategic education plan, calling it a "mere regurgitation of the Hopkins report".
The Government released the plan, entitled "Blueprint for Reform in Education" recently, saying that it "stems from the 2007 Hopkins Review of Public Education in Bermuda which made clear that Bermuda's students were not being offered a good enough springboard into the world."
Mr Piper said:
Upon reflection on Government's strategic plan it is evident that it is a mere regurgitation of the Hopkins report reflecting the recommendations and problems identified by Professor Hopkins.

We are three years passed the release of the Hopkins report with nothing more than a rewrite of these findings.
Saying that "the Ministry fails to lead by example", Mr Piper states:
The executive summary of the report states that leadership at the school and department levels will focus on student outcomes, it further asserts, that Principals will be given autonomy and support while being held accountable for student growth.

Whilst espousing to implement the recommendations of the Hopkins report, it consistently ignores the call for radical reform at the Ministry level. What consequences should we expect to see at the Ministry and board levels should they fail to deliver?
Saying that the Blueprint for Reform shows examples of government's lack of accountability, Mr Piper asked:
Why is only 1% of the current budget being spent on professional development and training if improving the quality of teaching and leadership is strategic priority 2 and 3?
Mr Piper goes on to say the BDA supports the suggestion of Dr. Grant Gibbons [UBP] that an independent board tracks progress in education reform and student improvement.
You can download or view the entire 44 page Blueprint for Reform in Education here [PDF]
Read More About