[Updated] Well known fitness aficionado Devrae Noel-Simmons has launched a campaign website for the upcoming election in Constituency 26, Warwick South Central. A former bodybuilder, Mr Noel-Simmons is a veteran fitness trainer who has worked with many of the island's athletes over the years.
The bye-election will be held on December 15th to fill the seat vacated by former Premier Dr Ewart Brown. The PLP has put forward former Senator Marc Bean to contest the seat, and the BDA has put forward political newcomer Sylvan Richards as their candidate.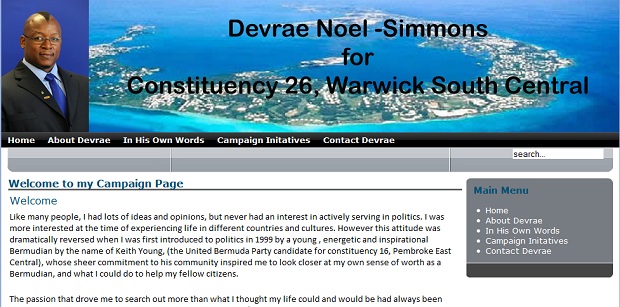 The website lists no party affiliation, there has been no official announcement as of yet from the UBP on whether Mr Noel-Simmons is their official candidate or not, however it is understood he will stand for the UBP.
On the website Mr Noel-Simmons says "Like many people, I had lots of ideas and opinions, but never had an interest in actively serving in politics. I was more interested at the time of experiencing life in different countries and cultures. However this attitude was dramatically reversed when I was first introduced to politics in 1999 by a young , energetic and inspirational Bermudian by the name of Keith Young, (the United Bermuda Party candidate for constituency 16, Pembroke East Central), whose sheer commitment to his community inspired me to look closer at my own sense of worth as a Bermudian, and what I could do to help my fellow citizens."
You can visit the website here.
Update 2:44pm: The UBP held a press conference at 2pm this afternoon, officially confirming Mr Noel-Simmons as their candidate. Story, photos and videos to come later. [now posted here]
Read More About