Following the official nomination today [Nov 23] of the UBP's candidate for the upcoming by-election, Leader of the Opposition Kim.Swan said "I am proud of Devrae Noel-Simmons today especially as nomination day represents the day you are officially placed on the ballot. Devrae has shown great faith in the United Bermuda Party and for the past fifteen months has been involved in the community and rebuilding one of our western branches."
On November 10th, the UBP formally introduced Devrae Noel-Simmons as their candidate for Constituency 26, Warwick South Central. The political newcomer is a graduate of Howard University, with a background in physical training, security and small business ownership.
Mr Noel Simmons was previously convicted of drug possession, and says he has since turned his life around. Mr Swan appeared to subtly allude to that saying "Devrae has been placed under the micro-scope but it is a position he expected; but his candidacy can serve as an example to the many young people in Bermuda that it is possible to turn your life around. He is showing that it takes a willingness to take responsibility for your mistakes; courage and humility to face the negativity; and patience to rebuild the trust that you were responsible for eroding"
Mr Swan concluded by saying "We are behind Devrae and look forward to the people of Warwick supporting his candidacy."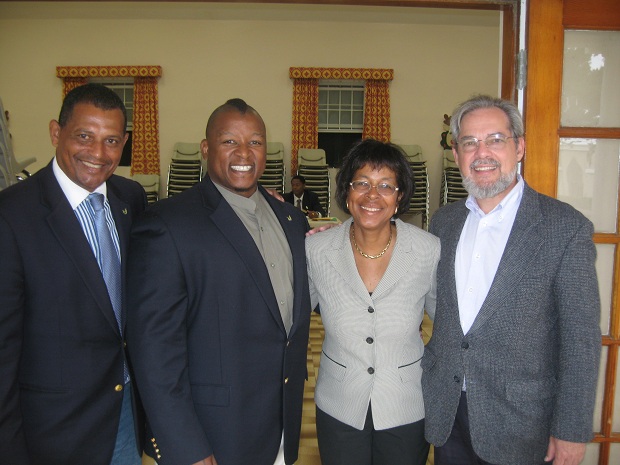 Nomination Day: Pictured above from left to right; Mr Swan, Mr Noel Simmons, Senator Jeanne Atherden and MP Trevor Moniz.
The by-election will be held on December 15th to fill the seat vacated by former Premier Dr Ewart Brown. The PLP has put forward former Senator and Junior Minister Marc Bean to contest the seat, and the BDA has put forward political newcomer and insurance executive Sylvan Richards as their candidate.
Read More About