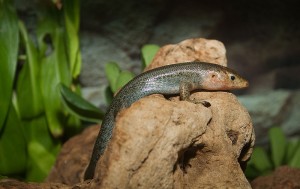 Bermuda served as an evolutionary "life raft" for the island's unique species of skink when it became extinct in North America millions of years ago, researchers say.
The Bermuda skink — or rock lizard — thrived here after specimens were carried to the island from the North American continent, presumably by storms or sea currents.
"Although we can only speculate how these colonising individuals dispersed over water, we note that both hurricanes and ocean currents are known to transport living lizards and debris to and from islands, and that the powerful Gulf Stream ocean current runs along eastern North America to the mid-Atlantic Ocean," according to a recently published research paper.
In a process scientists call paleoendemism, the formerly widespread species  became restricted to Bermuda. Shy and increasingly scarce in the wild, Bermudian documentary filmmaker Lucinda Spurling obtained some footage of the elusive skink for the BBC's Natural History Unit.
But in a tragic irony, Bermuda's only endemic lizard is now facing extinction here. Included on  the International Union for Conservation of Nature's Red List as "critically endangered" and  protected under the 2003 Bermuda Protected Species Act, the Bermuda skink is now among the rarest species of lizards in the world through loss of natural habitat, predation from rats, cats and kiskadees and entrapment in litter like discarded bottles.
The Bermuda Aquarium Museum & Zoo (BAMZ) launched a Bermuda Skink Project in 2001 to study the lizard and attempt to replenish its dwindling numbers.
"The project has focussed mainly on mapping the species' distribution on the mainland, monitoring their seasonal activity, determining their diet, studying their reproductive biology and behaviour, and assessing the degree of genetic differences between isolated populations," says the BAMZ. "This research is fundamental to conservation planning and management along with any captive breeding and reintroduction programmes that may take place at BAMZ in the future. Hopefully, new areas of skink habitat will be protected, which will not only serve to protect skinks but also many other native and endemic species.
"There are only a few places in Bermuda where skink populations are known to exist. The largest known populations are located at Spittal Pond and some of the Castle Harbour islands. However, skinks have also been discovered in Tucker's Town, Smith's Parish on North Shore, Horseshoe Bay, Astwood Park, and Hog Bay Park. There are other public sightings that have yet to be verified and we hear of individual skinks showing up in surprising areas all the time. Usually they are found in rocky coastal areas but you might find one in your garden if you're lucky and a cat, rat or kiskadee hasn't got to it first!"
Read More About
Category: All, Environment