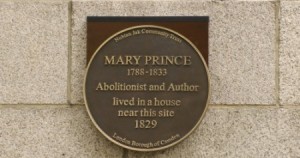 The Museum of London is launching a one-hour dramatic reenactment of the life of Bermuda slave Mary Prince for visiting school children.
An actor will be portraying the Bermudian woman whose 1831 memoir helped to galvanise the abolitionist movement and end the institution of chattel slavery in in British territories two years later in a production intended to bring history to life for youngsters.
The Docklands museum – which celebrates the long and varied history of the British capital – held a trial session of the living history drama in October and after polishing the script and will begin the Mary Prince presentation on a regular basis in February.
"Meet Mary in 1831 London, when the anti-slavery movement published her life story," says a Museum of London promotional release . "Born into slavery, as a child she was the 'pet' of a rich white girl and as an adult she suffered hard labour working as a field slave. Although in England she was free she could not return to her husband in the Caribbean because she would become enslaved again."
Bermudian Mary Prince is also featured in a permanent display at the museum called "London, Sugar & Slavery"   which commemorates the roaring trade in humans and sugar, slave resistance and the abolition campaign and the enduring relationship between the British capital and the Caribbean.
There has been renewed British interest in Mary Prince since 2007 — the bicentenary of the British Parliamentary Act which sought to abolish the transatlantic slave trade.
Born in Brackish Pond, Devonshire in 1788 she was taken to rake salt in the Turks & Caicos Islands and later lived in Antgua before arriving in London in 1828 with her sadistic master, John Wood, and his family.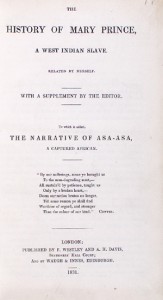 Making contact with London's Anti-Slavery Society, Mary Prince was able to secure her freedom — chattel slavery, while practised in British West Indian territories and Bermuda, was illegal in Britain – and went on to become the first slave to publish an account of her life, "The History of Mary Prince, a West Indian Slave, Related by Herself".
Her slave narrative caused a sensation, going through several printings in a matter of months. The book scandalised Britain, aroused popular indignation and added major impetus to the abolitionist movement.
Some readers even found her account of slave life too brutal to be believable. Her abolitionist employer in London wrote to one sceptical group, the Birmingham Society for Relief of Negro Slaves, confirming she had inspected Mary and the "whole of the back part of her body is distinctively scarred … chequered with the vestiges of severe floggings."
Also in 2007 a Mary Prince commemorative plaque was in London near the site where she once lived (pictured at top), recognising her voice as having "played a crucial role in the abolition campaign".
"History has a problem with her as a genuine heroine because she wasn't educated and was very obviously reliant on the anti-slavery movement to represent her — unlike someone such as Mary Seacole, who was a self-made woman," said Jak Beula, founder of Nubian Jak, the organisation behind the Mary Prince plaque, at the time. "She may not have been a poster girl for women's independence, but she's an extraordinary symbol of tenacity and resilience."
A fictionalised version of Mary Prince also appears as the love interest in "Bridgetower", a new jazz opera staged by the English Touring Opera Company about the 18th-century black musician George Bridgetower.
Read More About
Category: All, Entertainment, History