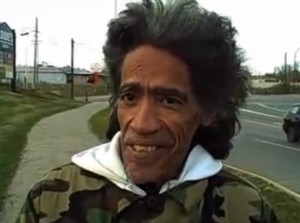 The Minister of Business Development and Tourism Patrice Minors advised this morning [Jan 7] that steps are underway to bring the man with the "Golden Voice" to Bermuda.
Ted Williams was left homeless after his life was ruined by substance abuse. Until recently, he was living in a tent near a highway in Columbus, Ohio. However he quickly became an online sensation after a clip was posted of him demonstrating his voiceover skills while seeking hand outs.
Mr. Williams appeared on NBC's popular morning programme the Today show yesterday (Jan 6) morning and in his account of his life and struggles, he highlighted that one of his fondest memories was visiting Bermuda in the 1970s.
Minister Minors, who like millions around the world has followed Mr. Williams' amazing story, said she too was "moved" by his circumstances.
Minister Minors confirmed that moments after Mr. Williams' appearance yesterday on the Today show, the Bermuda Department of Tourism's (BDOT) New York representatives had contacted him with a view to extending an invitation for him to visit Bermuda.
Minister Minors said, "I must admit that when I saw his story, I too was moved by his life struggles and challenges. And how absolutely touching that he cited Bermuda and his memories of our beautiful Island as being a beacon of light in his life.
"This must be an overwhelming time right now for Mr. Williams with tens of millions of people being swept up in his story after viewing it via television and the web. So we can certainly appreciate that Mr. Williams is under an intense spot light right now.
"Spending some time to digest all that is happening in a place where he has fond memories could be a wonderful experience for him. So, in a gesture of kindness and good will, I can confirm that we have reached out to Mr. Williams to let him know that his story has deeply touched all of Bermuda.
"We would be pleased to welcome him, and it's hoped that he will be able to visit the Island sometime in the near future."
Mr Willaims original video, which gained over 10 million views in a few days, is below:
Read More About