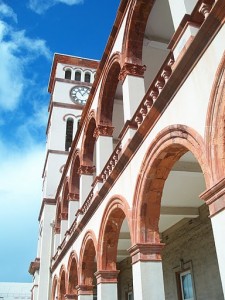 [Updated - SDO passed] Marking the fourth time the bill has come up for debate, the revised Tucker's Point Special Development Order [SDO] is back before MPs in the House of Assembly today [Mar.28], and is widely expected to pass.
The original SDO passed in the House of Assembly March 1st, with votes 2-1 in favour of the SDO. As in the Senate, the PLP members of the House all voted in favour of the bill, while the UBP voted against.
Approximately 4.5 hours into the first Senate debate on March 18, Senator David Burt [PLP] interrupted Senator Jeanne Atherden [UBP], and asked to "rise and report progress," effectively ending the debate and delaying the vote.
Following the first Senate debate, the various parties worked together to make changes to the SDO.
On March 24th Government confirmed there were changes to the SDO. In the revised draft, the total donated land is around 41.12 acres, and the total development area removed was 18.421 acres. A copy of the sitemap here.
In the second Senate debate of the revised SDO on March 25th, it passed by a vote of 7-4. All three UBP Senators voted against the SDO, all five PLP Senators in favour, while the three Independent Senators split their votes 2-1 in favour.
The vote in the House today is expected to follow the same path of the previous vote in the House, as well as the two previous Senate debates – with all PLP MPs voting in favour of the SDO, which as they hold the clear majority in the House will likely see the bill pass.
Items on the Order Paper for today include The Morgan's Point Resort Act 2011, The Bail Amendment Act 2011, Consideration of Supplementary Estimates No. 2 for Financial Year 2002/2003 to 2009/10, The Firearms Amendment Act 2011.
Updates posted as the day progresses. You can tune in live on FM105:
Update 7:30pm: Minister of Environment, Planning and Infrastructure Strategy Walter Roban said, "During proceedings in the Senate on March 18, the desire was expressed that the Government pause, reflect on the concerns raised, and return with a compromise that addressed those concerns and issues. We immediately set out to continue consultations, to listen to the voices of the people and to address the concerns raised before returning with a proposal that could be supported. From the outset, this Government has endeavoured to demonstrate by its very actions that it wishes to conduct itself with a degree of openness that is perhaps unprecedented in Bermuda."
"I am pleased that the public took full advantage of the opportunity that this Government enabled for full and open public debate on the merits of the Order. We are thrilled that such a robust debate occurred, for it stands as a highpoint of our island home's maturing democracy."
"We are confident that all involved understand the importance of enhancing our Tourism product and re-building that most critical pillar of our economy," said the Minister.
The House recently approved an amendment to the Development and Planning Act 1974 that dictates that all SDO's will from this point forward be subject to Parliamentary and thereby public scrutiny. The Minister reminded the House of this today by saying, " …as a result of that amendment public involvement, as it relates to these types of Orders, will become the norm and not the exception. It's a new day for democracy in Bermuda."
Update 2:30pm: As expected, the SDO has passed. MPs came back after lunch, and after Mr Swan finished, and Wayne Furbert [PLP] spoke, the vote was taken and the revised version of the SDO has passed. It was a roll call vote and passed 18-7. MPs have now moved on to the Morgan's Point Resort Act 2011.
Update 12:31pm: Mr Bean finishes, Charles Swan [UBP] begins. They are now adjourning for lunch, to resume again at 2pm. So far, it has gone as expected, and this is seen by many as more of a formality with the SDO sure to pass.
Update 12:24pm: Mr Bean finishes, Tourism & Business Minister Patrice Minors begins. Minister Minors reads from a letter from Rosewood.
Update 12:21pm: Mr Bean says the Opposition is objecting just for the sake of objecting. Ms Gordon-Pamplin interrupts ask that he withdraw the comments, Mr Bean says there is no chance of that.
Update 12:12pm: Ms Pat Gordon-Pamplin finishes, Marc Bean [PLP] begins, talks about the 40 acres being given, says the SDO will benefit the country.
Update 12:02pm: Mr Richards finishes, Pat Gordon-Pamplin [UBP] begins, said they really did not have the opportunity to study some of the changes.
Update 12:00pm: Mr Richards quotes Malcolm X saying we have been hoodwinked and bamboozled, and said he is still not convinced of its viablity. Said Tuckers Point had the temerity to tell them they are making money, but the press reports they are losing a million a month. Says how can we trust someone with a forked tongue.
Update 11:55am: Mr Richards says building residences is not tourism. He said he is convinced this is a property development company masquerading as a hotel property. Compares it to NFL, says it a misdirection play, says Tuckers Point is really smart, and they made everyone think it was a tourism project, and the first thing they take off the table is the same lot they were going to add hotel units on.
Update 11:49am: Minister Scott finishes, Bob Richards [UBP] begins by saying be careful what you ask for, you may get it.
Update 11:38am: Minister Scott says it is important to send a message to investors that we are open for business, as if not they will continue to go to Jamaica, Bahamas and other islands. Mr Pettingill interrupts, says they get casino licences in other islands as well. Speaker Lowe asks to get back on track.
Update 11:28am: Mr Pettingill concludes, Minister Michael Scott begins
Update 11:22am: Mr Pettingill says he would like to see people out, protesting and honking horns to say stop the shootings.
Update 11:18am: Speaker Stanley Lowe asks Mr Pettingill to speak on the order. Mr Pettingill was absent in the last SDO debate in the House, and his present position on the SDO is not clear.
Update 11:13am: Mr Barritt finishes, Mark Pettingill [BDA] begins
Update 11:11am: Mr Barritt said it may not be long before Tuckers Point is back for another SDO, says he is not convinced the order is not to bail out the hotel. Says the House will not get a yes from him, and he is not sure that they will get any yes votes from members on his side. Finishes by saying "Shame, shame, shame."
Update 11:03am: Mr Barritt said it has the "look and feel of a backroom deal" and it seems to be rushed through both in the House and Senate. Says he just got the papers a few minutes ago, and even with ones best effort one cannot read it all in only a few minutes. Says if it is so important, why can they not slow down.
Update 10:59am: Minister Roban concludes, John Barritt [UBP] begins. Mr Barritt said he will give a "shout out" and "props" for those who spoke out, and said the people who assisted in getting a better deal deserve to be commended, as they did what their Government did not do. Speaks of the 40 acres to be donated, saying it is a positive.
Update 10:52am: Minister Roban says this is not a bailout of a corporate entity, but an effort to assist tourism. He said òverseas investors are watching this development very closely, and a vote yes shows we are open for business, while a vote no shows the opposite.

Update 10:44am: Minister Roban is speaking to the specifics of the revised SDO, removal of Quarry Hill, units reduced from 54 to 45, approx. 40 acres donated to Bermuda etc. The full changes can be read here
Update 10:41am: Environment Minister Walter Roban is now speaking on the SDO. Stresses this is the first time Government has brought a SDO for public scrutiny.
Update 10:36am: The SDO has just been brought up, and there is some dispute whether it should be debated today. Speaker Stanley Lowe overules John Barritt's [UBP] objection and says it can proceed.
Read More About