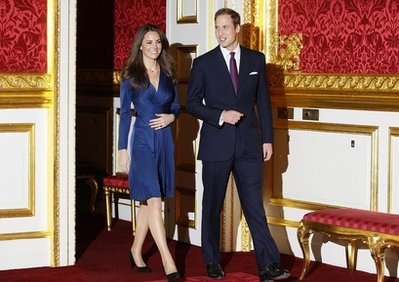 Bermuda's Premier has been invited to the royal wedding of Prince William and Kate Middleton which takes place in London on April 29.
Premier Paula Cox and husband Germain Nkeuleu are among the 1,900 guests who have been invited to the service at Westminster Abbey.
Celebrity guests at the royal nuptials include soccer star David Beckham and his wife Victoria, musician Elton John and film director Guy Ritchie.
Other guests include British government officials led by Prime Minister David Cameron, British soldiers who fought in Afghanistan and people who work for Prince William's charities.
Royalty from more than 40 countries including Denmark, Norway, Spain, Thailand and Morocco will be in attendance along with political leaders and dignitaries from the 54-member Commonwealth of nations made up of former British territories.
In Bermuda, Project Action will be holding a Bermuda Reception "High Tea" in celebration of the wedding between HRH Prince William of Wales and Kate Middleton. This fund-raising event will take place in the Harbour Room, Fairmont Hamilton Princess on Friday, 29 April, 2011 at 3pm. The taped wedding will be seen on large screens.
Prince William and Catherine (as she will be known officially) have urged the Westminster Abbey ceremony reflect the recessionary times and are said to have taken steps to ensure the celebrations surrounding their marriage are not overly "lavish."
The full guest list is below, click 'Full Screen' for greater clarity:
Read More About