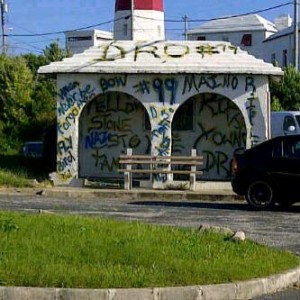 Walter Roban, Minister of Public Works and Derrick Burgess, Deputy Premier and Minister of Transport today condemned the continued defacing of public property across the island.
In a joint statement, Ministers Roban and Burgess said the anti-social and illegal behavior must stop immediately and those caught participating in these acts will be prosecuted to the fullest extent of the law.
A statement issued by Government said, "Minister Burgess recently met with a group of guest workers at their residence where one of their motor bikes had been set on fire in an intentional and xenophobic act of arson.
"The Minister expressed his displeasure at such an act and reinforced the fact that this type of behavior is not the way Bermudians in general behave.
"The Minister was met with representatives from Belco to ensure the installation of a street lighting pole was planted thereby providing additional illumination in the area as a matter of priority.
"Other recent incidents include:
The defacing of a public bus stop in St. David's in apparent tribute to a recent road fatality victim
Continued anti-foreigner graffiti targeting a particular segment of guest workers
Continued gang 'tagging' of bus shelters and other public and private property"
"In addition to creating an eyesore for residents and visitors, Public Works staff will have to postpone regularly scheduled work to repaint the bus shelter, utilizing valuable time and resources that should be spent on other work for the public benefit."
Minister Roban said: "The latest incident of a bus shelter in St. David's being covered in graffiti in tribute to a road fatality victim is not only illegal, but also in very poor taste. While sympathetic to the friends and family of the victim, and their desire to display a public tribute, spray painting a public bus shelter is not appropriate in any way, shape or form."
Concerning the anti-guest worker messages being scrawled across the island, Minister Roban said: "These despicable acts of racial and ethnically charged graffiti being plastered in public places are the latest in a string of xenophobic defacing of public property, obviously intended to be seen by the individual or individuals responsible."
"These are acts of ignorance – ignorance of the struggles of people in Bermuda and from all over the world to free themselves of racial and ethnic hatred and persecution, and to live in a free and just society where an individual's rights are enshrined in the constitution and which applies equally to all – locals, residents, foreign workers, visitors – everyone. We in Bermuda, all who live, work and visit here, deserve no less."
Wherever such graffiti occurs Public Works staff will remove the offending graffiti at the earliest opportunity and anyone who sees any incidents taking place should contact the Police.
Minister Roban added: "I would urge whoever is responsible for these reprehensible acts to read some history of the struggles of some of those they have insulted, offended and made threats against. There is never any excuse to promulgate racial or ethnic hatred and if those responsible are caught they will be prosecuted to the fullest extent of the law."
Read More About