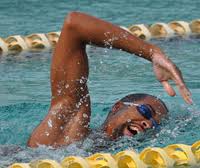 Today BASA announced that the most significant swim meet in Bermuda this year is about to take place on 16 December at the BASA Pool in Hamilton, and it will  feature two things: top swimmer Roy Allan-Burch makes his return to Bermuda swimming in a specially crafted event that will be covered by TV, and for the first time in Bermuda's history, the National Age Championships for athletes 25 and above will take place.
"I have a swim meet in the US coming up in early December, which could enable me to qualify again for the London Olympics, but I have to say, I am more excited about coming home to compete in this race against the teams. I know I will need to break the Bermuda National Record for 100m in order to win, but I am in great shape and this just makes it all the more challenging," said Burch from his home base in Charlotte, USA.
The race he is referring to on 16 December will pit him against some of the finest swimmers currently in Bermuda and who have ever swum for Bermuda.
Burch will swim 100m freestyle. But his rivals, who include the swimmers from the Bermuda 1992 Olympic team, will form teams of four, each swimming 25m.
"Don't be concerned about that," quipped Bermuda Swimming Masters President Nick Strong. "When we asked them to reform for this they agreed to help with the race as it helps a fellow Olympian prepare, get publicity, and raise much needed funds for his shot at the London Olympics. And I know they have been back in the pool preparing for their legs. Roy will need to swim fast to win." Names like Mike Cash and Ian Raynor were part of that Olympic squad in '92.
Other teams up against the best swimming sprinter Bermuda has ever produced include the powerful Sharks Swim Team of teenagers that currently overcame the Masters squad in that much anticipated 4 x 50m Masters vs Teenagers race. They have worked and trained together for this race and they know they can swim around 51sec.
There is also an ex-pats team consisting of four elite non-Bermudians teaming up to race Allan-Burch. Kevin Insley, who was second in the recent Trunk Island Swim, will anchor that squad. TV host Ric Chapman, who raced and beat Roy (with a slight head start) in that novelty 100m race a few months back, is also in that team. He will not have the luxury of a head start this time! "That's the leg I really want to win," smiled -Burch.
Another team in the race is a fascinating mix of Bermuda talent as it features Nick Strong and three other super Bermuda athletes including Jonathan Herring the triathlon champion of Bermuda plus Nick Thompson, a rival of Allan-Burch's over the years and who now competes on the Florida State University team.
The Roy Allan-Burch race is a great draw card for the meet which has been pulled together to give every swimmer on the island who resides here, and who is over the age of 25 years, a chance to compete for history.
For the first time in Bermuda's 400 year existence, the National Age Championships for all sprint swim races will be conducted this evening.
And Roy Allan-Burch, who at 25 is eligible to compete, has agreed to swim in one of the individual events. "I have seen the schedule and it suits me to have a go at not only establishing an Age record but also at attempting to break the National record in this race." He would not say which one…it will be a surprise on the night.
Read More About