Rare colour home movie footage of the island shot by a passenger aboard the luxury liner "Monarch of Bermuda" in 1939 features the island during its pre-World War Two heyday as a resort for wealthy vacationers.
Featuring short scenes of various island locations and sights — including the Bermuda Railway running along Front Street — the film also captured the liner's sister ship "Queen of Bermuda" departing Hamilton Harbour.
In 1919 the Furness Bermuda Line was awarded the mail contract for the New York to Bermuda service. This service reached its zenith in the years in the 1930s when Furness Bermuda Line ordered two magnificent luxury liners  the "Monarch of Bermuda" and the "Queen of Bermuda".
They were both built by Vickers Armstrong Ltd's shipyard at Walker on Tyne, England. With these two ships the Bermuda run from New York enjoyed the ultimate in luxury and they became known as "the millionaires ships".
Elegantly proportioned vessels with three funnels, they were among the elite ships of their day and had private facilities in their cabins.
The run between New York and Bermuda took only 40 hours in each direction and that allowed four days to be spent on the island.
When the Second World War broke out in September, 1939 the two luxury liners were requisitioned for war duties by the British government. The "Monarch of Bermuda" served as a troopship while the "Queen of Bermuda" became an Armed Merchant Cruiser and later a troopship.
After the war while being refitted for passenger service the "Monarch of Bermuda" was gutted by fire and she was salvaged by the UK Ministry of Transport and converted into an emigrant liner.
Renamed "New Australia" she was operated by Shaw Savill. In 1958 she was sold to a Greek shipping firm and was retired from service in 1966 and sent to be scrapped at Valencia in Spain.
The "Queen of Bermuda" did return to the Bermuda service after the war in 1947. Later in 1961 she was completely modernised and rebuilt with just one funnel.
But by this time the heyday of Furness Bermuda Line was over and by 1966 the company decided to withdraw from the New York to Bermuda run. As a result the "Queen of Bermuda" was retired from service and scrapped at Faslane on the River Clyde close to where she had been built.
The "Monarch Of Bermuda" In Hamilton Harbour In The 1930s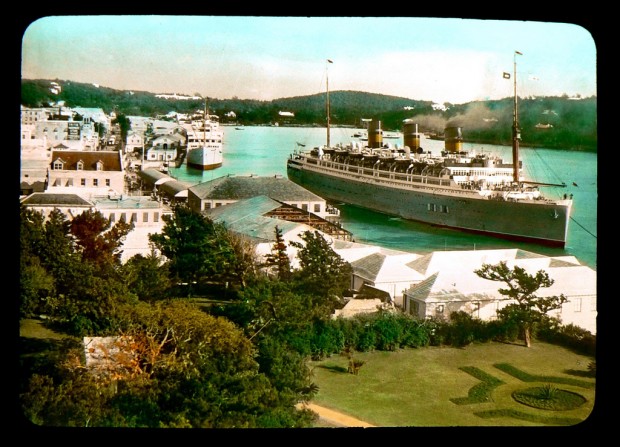 Read More About