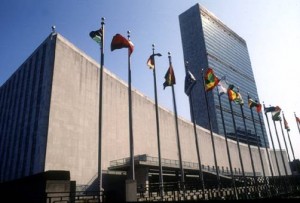 Bermuda's continuing constitutional status as a British Overseas Territory is completely at odds with the modern world the newly elected chair of the Special Committee on Decolonisation at the United Nations has said, calling for new strategies to ensure the "final disappearance of the archaic concept of colonialism".
Speaking after his election at the committee's first meeting for 2012 on Thursday [Feb.23], Diego Morejón Pazmino from Ecuador called for frank and sincere dialogue and a focus on economic and environmental considerations. The UN Secretary-General Ban Ki-moon spoke about "constructive involvement" between the committee, the administering powers and the non-self-governing territories.
The UN committee argues the process of decolonisation which began in the 1950s and '60s remains incomplete as there are still 16 Non-Self-Governing Territories around the world and two million people still "colonised".
Remaining on the UN list of colonial territories are Anguilla, Bermuda, British Virgin Islands, Cayman Islands, Falkland Islands, Montserrat, Saint Helena, Turks and Caicos, United States Virgin Islands, Gibraltar, American Samoa, Guam, New Caledonia, Pitcairn, Tokelau and Western Sahara.
Te Special Committee on Decolonisation was created in 1961 by the General Assembly of the United Nations with the purpose of monitoring implementation of its Declaration on the Granting of Independence to Colonial Countries and Peoples and to make recommendations on its application.
"The Special Committee is in a position to develop innovative approaches and generate new dynamics," said Oscar Fernandez-Taranco, Assistant Secretary-General for Political Affairs, on Ban's behalf.
He added that the populations of the 16 Non-Self-Governing Territories on the United Nations list has "suffered and continues to suffer from the financial crisis and climate change."
The Special Committee elected its officers for the year: Diego Morejón Pazmino (Ecuador) Chair; Pedro Núñez Mosquera (Cuba) and Shekou M. Touray (Sierra Leone) Vice-Chairs; and Bashar Ja'afari (Syria) Rapporteur.
Read More About
Category: All