[Updated with video] There was a shooting at approximately 3.45am this morning [Mar.24] in the Reid Street extension area of Hamilton opposite Shine's, which resulted in shots being fired into Sir John Swan's Seon Place office building.
Unofficial reports indicate that no one was injured, and that the shooting was done by suspect[s] on a motorcycle. Police responded to the incident, and remain on the scene. Details are limited at this time, however we will update as able.
Update 6.03am: The police confirmed the incident and said forensic evidence has been collected confirming shots were fired. Police also confirmed that no injuries have been reported.
Update 6.26am: The photos below show a bullet hole in the side of the John Swan office building, located at the very end of Reid Street extension heading towards East Broadway. There appear to be two bullet holes in two separate windows.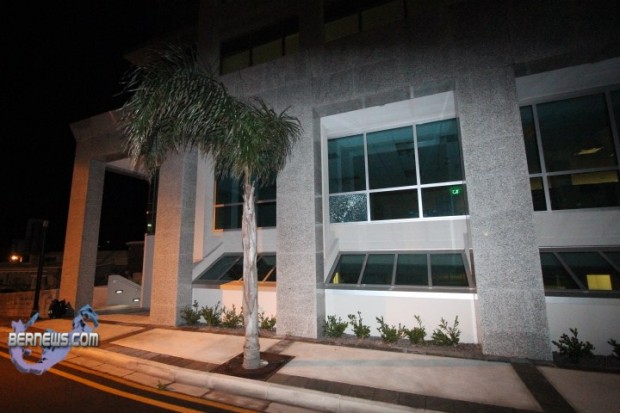 Seon Place is a 10-storey office building, making it the tallest building in Hamilton. Work on the building began in 2008, and was completed in 2010.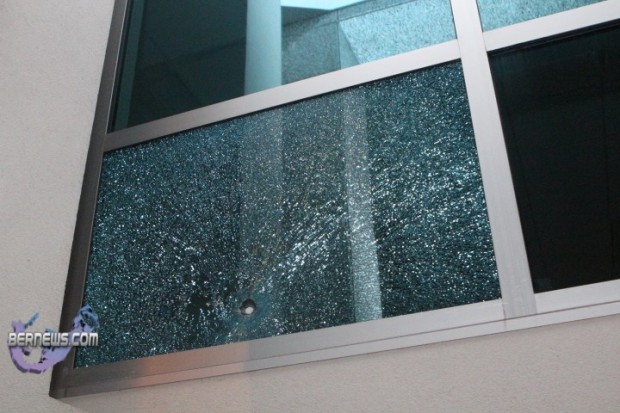 The building has floor to ceiling glass, two levels of underground parking and offers 107,000 square feet within its eco-friendly design.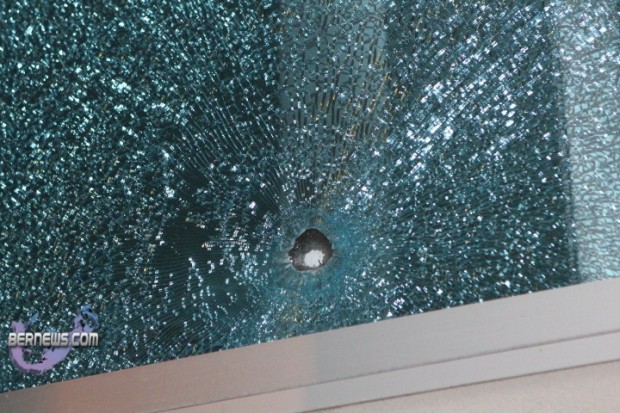 The bullet hole pictured above is located approximately 10 feet high, and the second bullet hole [pictured below] is located around 10 feet away and a few feet lower, right in the corner of the window pane.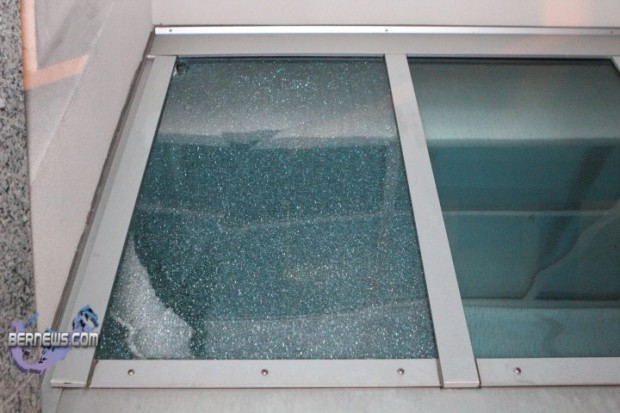 Update 6.58am: The full police statement follows below:
Around 3:45am on Saturday, March 24th police responded to reports of gunshots on Reid Street Extension in the City of Hamilton.

Forensic evidence collected at the scene and damage to a building in the area confirmed a firearm had been discharged; however no one was injured. The suspects are believed to be two men on a motorcycle.

Police are appealing for any witnesses or anyone with any information to contact the Serious Crime Unit on 247-1739 or the independent & confidential Crime Stoppers hotline on 800-8477.
Update 7.37am: Video of police spokesman Robin Simmons and a pan of the scene is below. When asked if Sir John had been notified Mr Simmons said he was not aware of that at that time [6am], but he expected it was done, or would be done in due course."
A ZBM reporter pointed out that at 3.45am on a weekend late night revelers may have been in the area and asked if there were witnesses. Mr Simmons declined to give further information citing the early nature of the investigation, but did confirm they believed the shooting was committed by two men on a bike.
Read More About