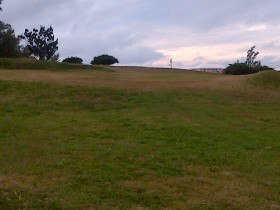 Incumbent St. George's West Member of Parliament Kim Swan said he is encouraged that his many months and years of prodding has finally resulted in a commitment by the Bermuda government to re-open St. George's Golf Course.
"Whilst there remains much concern about the state of disrepair of the course – caused by years of neglect – now that the restoration project has commenced the improvements are more noticeable in certain areas and greatly appreciated," said Mr Swan.
"Notwithstanding, it will take several months of meticulous maintenance to restore the course to an acceptable playing standard."
The St. George's West electoral candidate stated: "The current maintenance program is a huge step in the right direction for the Town of St. George – especially the many time share owners who purchased units at St. George's Club when golf was on their doorsteps."
"I know that the St. George's Club Members Advisory Committee [MAC] have an online petition with more than 400 signatures supporting the restoration and reopening of St. George's Golf Course."
Mr Swan added: "The St. George's Golf Course was built and opened by the UBP Government in 1985 to provide marketable golf experience for visitors and locals in the East End. The course became popular and brought thousands of visitors to St. George's each month."
"Now that PLP government has seen the wisdom of reopening the St. George's Golf Course the east end will again have a major amenity to market."
"There are opportunities for St. George's to house a golf learning centre (Academy of Golf) and partner with a suitable National Golf body in either Canada, USA or Europe to develop their talent in Bermuda during the winter months."
"This is but one example of the importance of advancing good idea and keeping the issue in the forefront until it is realized by the powers at be," Mr Swan concluded.
Read More About
Category: All