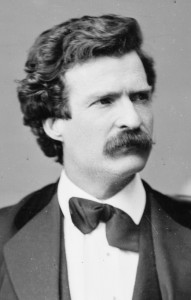 Along with such works as Marco Polo's account of his journey to China, Mark Twain's "Innocents Abroad" — among the first publications to introduce Bermuda to Americans as a holiday destination —  has been named as one of the top travel books ever written by a Smithsonian Institution writer.
"Smithsonian Magazine" contributor Tony Perrottet this month [Mar. 20] ranked "The Innocents Abroad" — Mark Twain's account of an 1867 "Great Pleasure Excursion" on board the chartered vessel "Quaker City" through Europe and the Holy Land — as fourth on what he calls a "brazenly opinionated short-list of travel classics .. that have inspired armchair travellers to venture out of their comfort zone and hit the road."
Bermuda was the last port of call on the five-month "Quaker City" voyage, among the first extended pleasure cruises of its kind ever undertaken.
Mark Twain [1835–1910] — then a journalist and commentator — joined the "Quaker City" cruise with the intentions of sending back dispatches about his travels to various newspapers.
In 1869, "Innocents Abroad: or the New Pilgrims' Progress" — his full-length account of the journey — was published to great critical and popular acclaim and the book proved to be Mark Twain's most popular work during his lifetime.
The "Quaker City" which went on a cruise of Europe and the Holy Land in 1867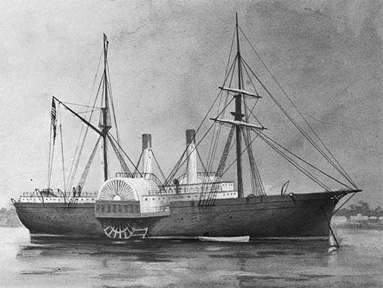 "Writers of the Gilded Age — a term Mark Twain incidentally coined — produced thousands of earnest and tedious travel books, a tendency that Twain deftly deflated with 'Innocents Abroad'," said Mr. Perrottet. "Sent as a journalist on a group cruise tour to see the great sights of Europe and the Holy Land, Twain filed a series of hilarious columns to the Alta California newspaper that he later reworked into this classic work.
"With its timely, self-deprecating humor, it touched a deep chord, lampooning the naïveté of his fellow Americans ['The gentle reader will never, never know what a consummate ass he can become until he goes abroad'] and the modest indignities of exploring the sophisticated Old World ['In Paris they just simply opened their eyes and stared when we spoke to them in French! We never did succeed in making those idiots understand their own language.'] …"
When the "Quaker City" put into Bermuda, the future author of "Huckleberry Finn" and "Tom Sawyer" was immediately captivated by the island he later championed as a holiday spot for Americans in a series of 1877 "Atlantic" magazine articles and which would become his second home in the final years of his life ["Bermuda is the right country for a jaded man to 'loaf' in," he said in the 'Atlantic'. "There are no harassments; the deep peace and quiet of the country sink into one's body and bones and give his conscience a rest and chloroform the legion of invisible small devils that are always trying to whitewash his hair ..."].
The "Quaker City" arrived in Bermuda on November 11, 1867 and Mark Twain and his 73 fellow passengers spent four seemingly blissful days exploring the island.
"Days passed — and nights; and then the beautiful Bermudas rose out of the sea, we entered the tortuous channel, steamed hither and thither among the bright summer islands, and rested at last under the flag of England and were welcome. We were not a nightmare here, where were civilization and intelligence in place of Spanish and Italian superstition, dirt and dread of cholera," wrote Mark Twain in "Innocents Abroad."
"A few days among the breezy groves, the flower gardens, the coral caves, and the lovely vistas of blue water that went curving in and out, disappearing and anon again appearing through jungle walls of brilliant foliage, restored the energies dulled by long drowsing on the ocean, and fitted us for our final cruise—our little run of a thousand miles to New York — America — HOME."
Illustration from first edition of "The Innocents Abroad"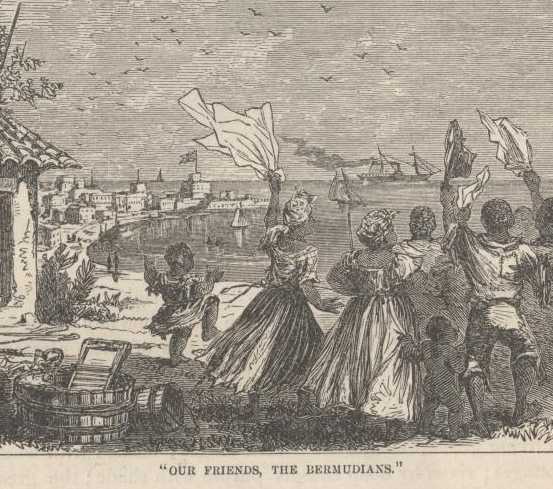 "We bade good-bye to "our friends the Bermudians," as our programme hath it—the majority of those we were most intimate with were negroes — and courted the great deep again. I said the majority. We knew more negroes than white people [but] we made some most excellent friends among the whites, whom it will be a pleasant duty to hold long in grateful remembrance."
Mr. Perrotet — who also included such books as Jack Kerouac's Beat Generation classic "On The Road" and Bruce Chatwin's "In Patagonia" on his top 10 list — said "The Innocents Abroad" has had a lasting impact on both travel literature and travel.
"The result [of the book] was to embolden many more of his fellow countrymen to fearlessly cross the pond and immerse themselves in Europe, and, hardly less importantly, to begin a new style of comic travel writing that echoes today through hugely popular modern authors such as Bill Bryson," he said. "Today, Innocents Abroad is one of the few 19th-century travel books that is still read eagerly for pleasure …"
The steamer "Quaker City" — a converted US Navy warship which helped to impose the Union blockade of Southern ports in the American Civil War — was sold and renamed "Columbia" in 1869, then, after joining the Haitian Navy in the same year, became "Mont Organisé."
Sold again in February 1871, she was renamed "République" but — in a tragic irony — was lost at sea off Bermuda later that month.
Read More About
Category: All, Entertainment, History