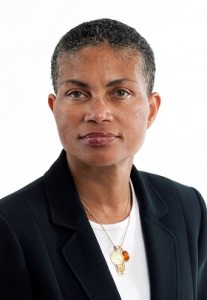 The Ministry of Environment and Planning announced the appointment of Ms Aideen Ratteray Pryse to the post of Director of the Department of Planning, effective June 3rd 2013.
Ms Ratteray Pryse will replace current Director Mr. Trevor Leach, whose contract concludes on May 31st 2013.
Ms Ratteray Pryse is a former Assistant Director of Planning, and currently operates local Planning consultancy company, ARP Consulting Services.
The Minister of Environment and Planning Sylvan Richards said: "While I am happy that we have secured a Bermudian for this most critical post, I am also saddened to have to say farewell to Trevor, who has served this Ministry, the Government and the people of Bermuda with aplomb for six years.
"The Department of Planning has made significantly positive strides under his leadership, and his wide knowledge of Bermuda's Planning regime has proven an asset to all who have worked with him."
During his time as Director of Planning some of the chief national infrastructure projects that Mr. Leach has helped transition into existence include: The Dame Lois Browne-Evans Building, Heritage Wharf, The Hospital Redevelopment Project and the Morgan's Point/Southlands transfer.
Some of Ms Ratteray Pryse's roles and responsibilities as Director of Planning will be:
To set and implement a vision for the Department of Planning;
To manage the day to day operations of the Department of Planning;
To advise the PS and Minister on Planning related matters;
To continue improvements in customer service in Planning;
And to ensure the professional development of staff.
Ms Ratteray Pryse attended McGill University and obtained a BA in Urban Geography with a Minor in Environmental Studies. She then attended the University of Waterloo where she obtained a Masters degree in Planning. She worked at the Department of Planning for 13 years, leaving at the end of 1999 at the level of Assistant Director. She launched ARP Consulting Services in 2000, working as a planning consultant and, at the same time, as Festival Director of the Bermuda International Film Festival [BIFF]. She was employed by BIFF until 2011.
Throughout her most recent position, as Principal Planner at ARP Consulting Services, she worked with homeowners and developers on a variety of projects ranging from boathouses to resort hotels. She was a consultant to both the Ministry of the Environment and the Department of Planning during this time; working, in the first case, on updating planning legislation, and, in the second case, assisting with applications for development.
"My experience with both sides of the 'planning coin' means that I understand the issues from each unique perspective, something I believe will be useful in my new role," Ms Ratteray Pryse said. "Looking ahead, I believe the Department of Planning can be a constructive facilitator in the implementation of priorities such as the island's economic recovery and the National Tourism Plan. That will involve assessing of practices and procedures and ensuring the resources of the Department are in alignment with the island's needs."
"I have a great interest in the potential synergy between planning and the arts. Certainly, my years with BIFF opened me up to opportunities I would not otherwise have experienced. The current trends in planning are towards creating opportunities for the arts to ignite entrepreneurial activities and facilitate community regeneration through improvements to spaces and places. I look forward to making significant progress in both of these areas.
"Ultimately, I would like to see productive collaborations between the Department of Planning and those investing in our island, be they developers, hoteliers, homeowners, artists, environmental stewards, students – whomever, really. Once we expand the meaning and understanding of 'investment' we realise that all sorts of collaborations are possible that can improve Bermuda for everyone."
Read More About