The Argus Group announced that it has supported Family Centre's new "Building My Future" summer internship and mentoring programme. The programme enabled 21 youths to gain valuable work experience. The participants of the programme were honoured at a reception at Argus on Thursday for their hard work and dedication during their placement.
The objective of the programme was to provide a positive first work experience. Participants were able to determine their areas of strength, practice their social skills, consider their career goals and practice work habits critical to job success. Mentors were available to each student to help them navigate through the experience and to offer advice and support. Each student was paid a small stipend for their work.
Back row: left to right: Allison Hill, CEO, Argus; Sophia Minors; Da'shontae Walker; Shimea Irving; Tajahni Tucker; Jah'zardae Samuels; Jaizel Deshields- Smith; Matteo Turner; Ajai Daniels; Darren Woods, Family Centre. Front row: left to right: Joy Pimental, Head of Sales Management, Argus; Martha Dismont, Family Centre; Shequilla Young; Taree Wade; Safiya Raynor; Jah-bre Dillas-Bremar; Zaria Hill; Zari Simmons; Dequon Coddington; Naomi Landy; Leila Wadson, Family Centre; Edmeiko Butterfield, Family Centre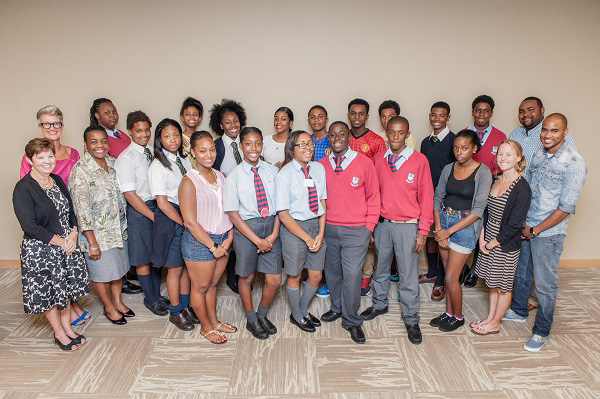 Young people between the ages of 13 and 16 who had already participated in Family Centre's Youth Police Initiative and Youth Leadership Academy were eligible to participate in "Building My Future," which ran over the course of the summer. During the month of July students practiced skills related to work-readiness and responsibility. The successful demonstration of these skills qualified the students for an internship placement during the month of August.
Internship placement options involve local businesses and organisations that include Government offices, utility companies, hotels, health care services, marine services and summer camps.
Martha Dismont, Executive Director, Family Centre, says, "The programme's aim was to address the void in professional development opportunities for young people that we see directly contributing to lagging skill development. It was amazing to see organisations take the opportunity to have a student on board and to see the impact that was made on a young person's life. Young people are hungry for positive attention, approval and guidance from caring adults. The programme showed students how to stay positively engaged and to gain new skills with support and encouragement. We want to thank Argus for helping to make this opportunity possible for these young Bermudians".
Alison Hill, Chief Executive Officer, The Argus Group, says, "Argus is dedicated to helping the next generation of Bermudians and understands the importance of gaining valuable life experience in the work force at a young age. Family Centre's summer internship and mentoring programme gives students hands on experience that teaches them accountability and responsibility, which we believe will provide a new perspective as they continue their studies and strive for success. Argus is pleased to be a part of this initiative to support young people in reaching their goals".
Read More About