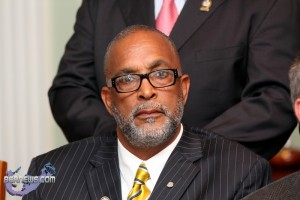 Minister Michael Fahy condemned comments made by Deputy Mayor Donal Smith, calling them "saddening, regrettable and just plain deplorable."
According to a newspaper report, Deputy Mayor Smith grouped gays with "freaks", claimed anyone who supports same sex marriage is "condemned" and said international business helped destroy Bermuda's social fabric by making the Island more materialistic.
Mayor of Hamilton Graeme Outerbridge said, "The statements attributed, in the daily newspaper, to Deputy Mayor Donal Smith are his own opinions and thoughts and in no way reflect the thinking and sentiments of the Council of the City of Hamilton. These comments were made during an interview on a religious television program. We respect everyone's right to freedom of speech."
Minister of Home Affairs Michael Fahy said, "It is shocking that an elected official could attack homosexuals in this manner. In addition, his commentary regarding International Business is completely unacceptable, especially given the value of the industry to Bermuda's economy. As Deputy Mayor, the reputational risks associated with all these comments is potentially quite damaging to Bermuda."
The Minister stressed that whilst he understands the Mayor's position to be that his Deputy's comments were made in a private capacity, given his public position it is expected that the Deputy Mayor should at least issue a public apology and has further requested that the Mayor consider other steps that could be taken in respect of Mr. Smith.
The Minister further stressed, "Mr. Smith's comments were saddening, regrettable and just plain deplorable, and I feel confident in saying that his remarks are not representative of the majority of Bermudians. I hope that the Deputy Mayor takes a long hard look at what he said and reconsider his position."
A Government spokesperson said that a meeting already planned with the Mayor and elected officers of the municipalities, previously planned for Monday, is expected to see this item added to the agenda.
Read More About