The inaugural Bermuda Long Drive Championship teed off on Saturday [Oct 26] at Riddell's Bay Golf & Country Club with the course basking in sunny weather and a helping wind.
With the Championship in its infancy the crowds turned out in large numbers to show their support and see the longest hitters on the island compete for the right to be named the Long Drive Champion of Bermuda for 2013.
The day began with six junior golfers teeing it up and leading the way. The eventual winner was Lewis Daley who hit a monstrous drive of 311 yards in the final to be named the Junior Long Drive Champion whilst Daniel Hetzel and Cory DeSilva placed second and third respectively.
Championship winner Carson Way and organiser Ronan Kane: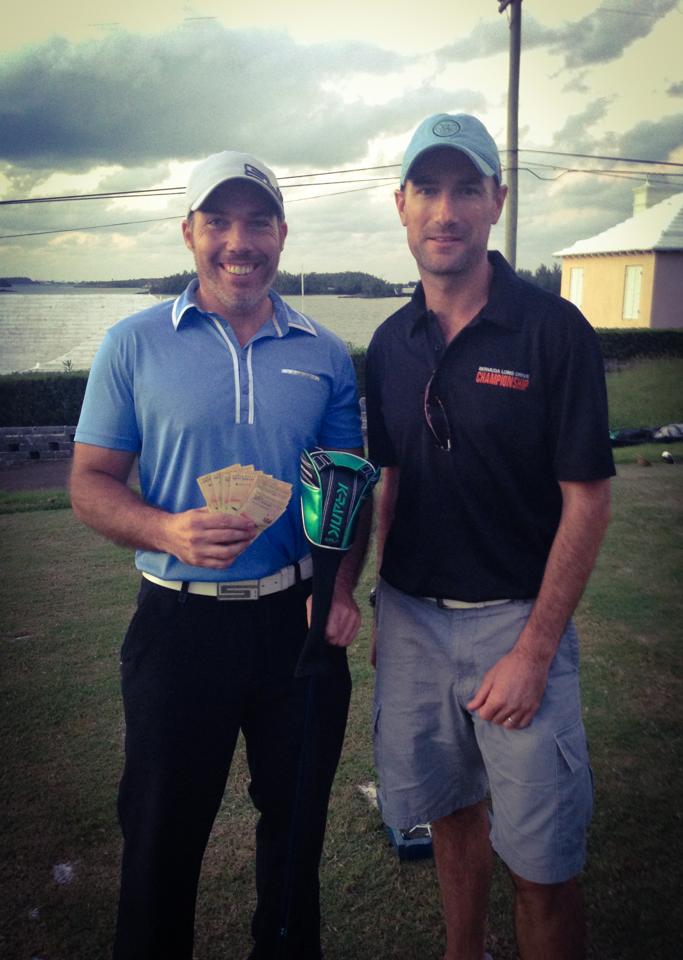 With a favourable wind the event was set to see some big numbers put up in the Open Division and the crowds were not left disappointed with Round 1 having twelve drives in excess of 300 yards with the longest being 360 yards.
Round two kicked off as a straight shootout for a place in the final four and again we were treated to a great display of long driving. Carson Way, who flew in especially for the event from Canada, booked his place in the final with a drive of 348 yards and this was followed up by Alex Hunter (327 yards), Neil MacGuinness (327 yards) and Martin Harvey (293 yards).
With the sun beginning to set on what had been a competitive afternoon, the final four slugged it out in the final with the eventual winner Carson Way bombing it 345 yards to claim the Championship. Hot on his heels was Martin Harvey in second with 319 yards followed by Alex Hunter with 313 yards.
When asked about the event afterwards, organiser Ronan Kane expressed his delight with how the Championship went. "We certainly lucked out with the weather today and it made for a very exciting afternoon. With the crowds turning up to support the players it goes to show how popular something like this can be down here.
"We saw a lot of talent on display today and it was also great to see the juniors take part and show the older guys how it can be done. A big thank you has to go to the volunteers who helped out and to the staff at Riddell's Bay who did a wonderful job in helping to put this on."
Speaking on how he hoped to develop this event, Mr Kane explained how this year's event was mainly intended to generate the interest in order to grow it for the future. "Plans are in place for next year to have more divisions and expand the event. We hope to have an under 18's Junior Division, a Women's Division, an over 45's Men's Division as well as a Men's Open Division.
"I'm also hoping to make this a qualifier for the 2014 World Championship Men's Open Division and with that we will be reaching out to the local community and business for their support to sponsor the event. Already we have received some interest from overseas about the possibility of staging an international event so this certainly has the potential to gain significant exposure, not only in Bermuda but overseas."
Read More About